The Starwars hat is complete, and I must say that I love it. Unfortunately, it is still drying. So you will have to wait until tomorrow to see it.
I also got my seed stitch jacket (the baby sweater I was knitting...remember that?) moving. I only have the sleeves left and some finishing.
Now, time for a sock.
With careful thought...I decided to make a nice warm winter pair for a Christmas gift, of course...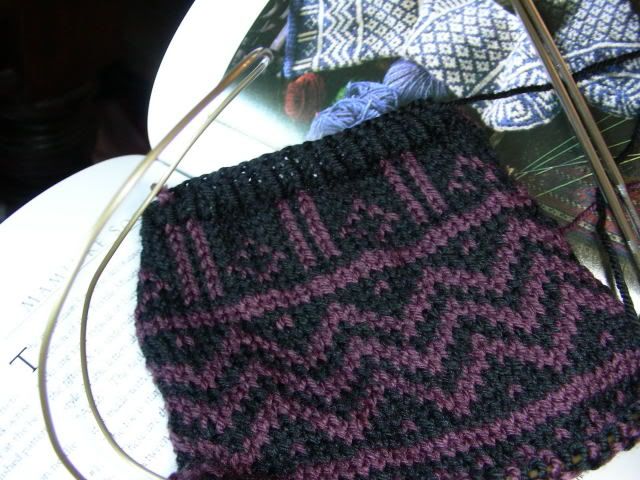 These are from Nancy Bush's
Folk Socks
. The Mamluke Socks.
I couldn't decide on colour choices. I am using the
elann devon
that I bought recently. I wasn't sure if I really wanted the stark contrast that they are done in...and the black grounds them a bit. Also, the recipient wears black pants frequently in the winter...so why not try to match that? I have a lighter colour of plum that I could be using...what do you think?
This gives me a chance to see how I like fair isle socks...to prepare for my own long awaited
Norwegian Stockings
!