Finally...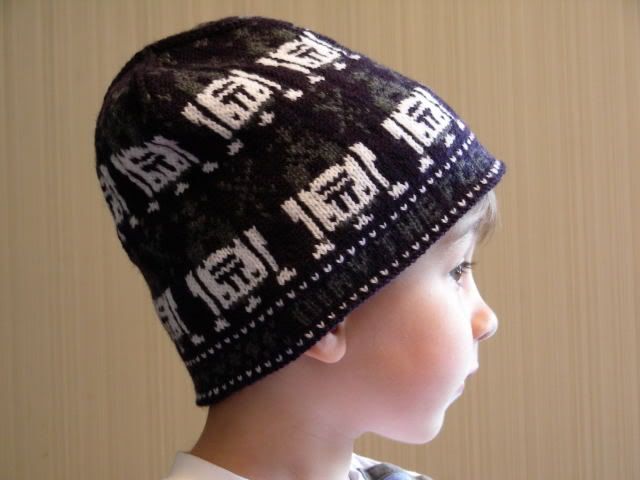 Started:
August 17, 2006
Finished:
August 30, 2006
Yarn:
Devon by Elann
. Navy, white and grey. One ball of each.
Pattern:
Well, kind of my own...but I borrowed the R2D2 graph and the wording around the bottom.
I do really love this hat. It will be the base for my other Christmas hats. I am tweaking the pattern for you...and will hopefully have it in a couple days...with suggestions for an adult sizing.
I really like this Devon yarn for fair isle. I've already ordered more colours for hats and socks.
Tell me, when you order yarn from Elann.com does it smell when you open the bag? Like
garbage
...specifically. This happens to me all the time...I wonder if it is the bags they use? It eventually goes away...but oh man!
The yarn expanded a bit when washed..and there was some colour in the sink but nothing that bled into the white. It smells when wet...like most wool does...I hate the wet barn smell. Hopefully a couple more washes will get rid of it. I must do that so my nephews hair doesn't smell like a barn!