Oh
Karma
! Did you have the baby yet? Here is a little motherhood story for you...
Until last night, I have never had to deal with this one:
So, my 2 1/2yr old calls to me in the middle of the night...about 2:30 a.m.
"Mommy help me"
So I drag myself out of bed into his room...oh man...I think he has vomited all over his bed.
I bring him in the bathroom and try to clean him up...Realizing that it is not vomit at all...it came from the other end!
Ahhhhhhhh gross! All over his bed, pillow case, me, him...OMG.
God Bless Mothers everywhere.
Needless to say, I didn't get much sleep last night (with the worrying, the cleaning, the laundry, showering, waiting for it to happen again)...so it will be a lazy day of knitting.
Yesterday I was drugged up with migraine meds and spent the day on the lounger outside knitting this...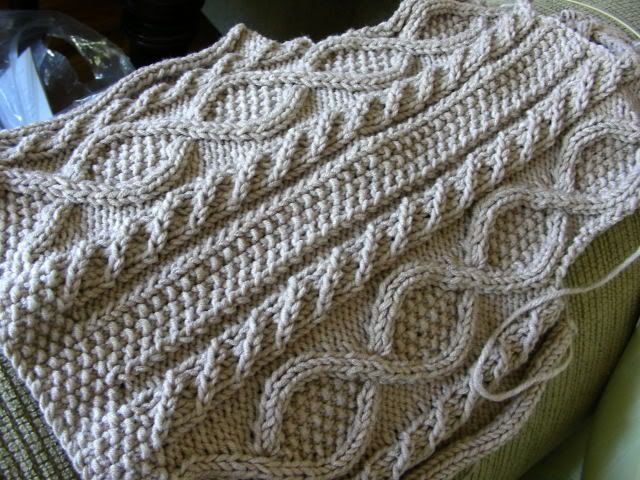 You remember this
little guy
...his birthday is a week away.
I decided to knit
trellis
after seeing it on
Karma's blog
. I am using the Rowan all season cotton that I picked up at the yarn sale the other day.(which is pretty much exactly like the handwork cora that I have in the stash, oh well...I know of a couple more babies on the way I could knit for.)
I will make atleast one front today...and of course go to the last day of the yarn sale!