Bea is progressing as expected. The back and the left front are complete.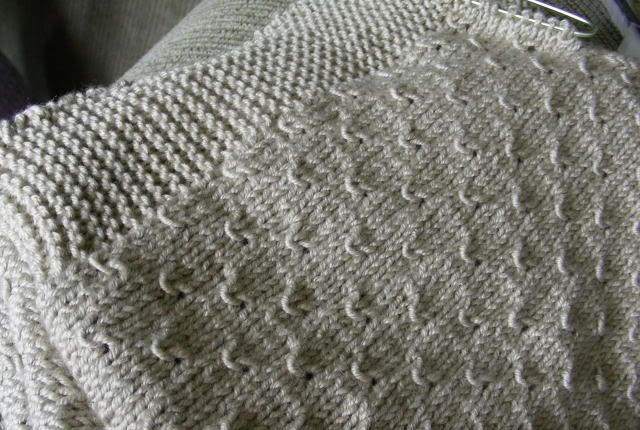 I love brilliant knit designers. Not only am I loving the w-i-d-e garter stitch button bands...it is knit with the front pieces and has a fabulous picot edge on it for a beautiful finish.
So, when you've completed knitting the pieces, all you have left is the neck band.
Brilliant and beautiful.
Silvia had a question about the Kim Hargreaves kits...
The socks are lovely, but I have a question about Bea. I love all those KH patterns, but I noticed that skill level recommendations for the patterns aren't exactly clear. Bea is listed as "suitable for the average knitter" and the other two levels are "for a knitter w/ a little experience" and "suitable for the experienced knitter". Does that make Bea an intermediate, and the "suitable for a knitter w/ a little experience" patterns beginner knits (although I'd guess an advanced beginner)? I'd love to try one, but I don't want to bite off more than I'm ready for. Any thoughts?

Let's talk a moment about skill levels.
I don't even know what skill level I am.
I have learned so much over the past couple years of serious knitting. I try to pick projects that will teach me something new. I never really look at the skill level, I just look at the garment...and I know if it is something I would attempt.
Obviously, if you have never cabled before, don't attempt a sweater that has an all over cable pattern. It will just be frustrating and disappointing.
I find that most patterns include instructions for whatever techniques used, or you simply look up how to do it on the internet or in your knitting books.
Then, you
will
knit a swatch. I firmly believe in knitting and washing swatches. Attempt the pattern/technique in your swatch...that gives you a feel for it.
So, Bea is listed as suitable for the average knitter.
Well, I guess I am average. It doesn't really challenge me, but it gives me new ideas for knitting sweaters and how designers develop them. (Yes, I do plan on designing some in the future, so I love to get all of these under my belt.)
I do love the all over pattern and the garter stitch details...and I know I will love wearing it.
If you can cast on, knit, purl, decrease with instruction (ssk and k2t0g), make the little pattern (and being able to recognize where to start it and incorporate the increase and decrease into the pattern), pick up stitches for the neck band and able to cast off...you are an average knitter.
I hope that helps a little.
Ah yes...remember
this yarn sale
...it's on again!
Here is the first haul...it really is difficult to decide on future knits. Obviously I am loading up for my Christmas knits!
Jingle bells, jingle bells, jingle all the way...