Life is changing a little bit around here.
My DH has started a new job and he is no longer home in the morning to bring me my coffee. Yes, I know, I was quite spoiled. He would always venture out early in the morning and bring back a coffee for me which would be waiting when I get out of the shower. For those of you who are american...we are talking about
Tim Hortons
here. Some may refer to it as their "timmies", all you need to know that it is one seriously cup of coffee.
So now, I am home with the kiddies in the morning. I can't pack them up in the car first thing in the morning to go get my timmies...we would have to get dressed, the car is cold....oh no...
Yesterday was a rough day with the children...was it because it I didn't have my morning coffee? I tried tea...not so good. I actually got out to get my coffee at 1:00, that was a little late. We need to set up a new routine. I was forced to dig out the dreaded coffee maker.
So in celebration of this...let's psych ourselves up here...I knit this...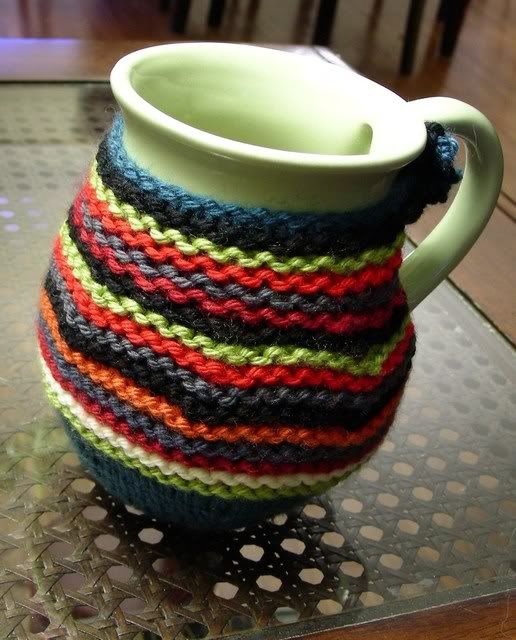 Garter Mug Cozies from
Interweave Knits Holiday 2007
. I used up a bunch of cashmerino scrapes...and because of the shape of the mug I did a little decreasing...that didn't really work out and turned out was not really necessary. But whatever...it is fine. Keep the coffee warm, that's it job!
The pattern is so simple and who doesn't love garter stitch!? (hey, new group on ravelry called
FLOGS
)
I may venture out into the dollarama to pick up some mugs to knit these for...what a great gift that would be! Plus I could use up some partial balls and scraps!
There has been some other knitting going on. I have been cheating a little on the "blog" and spending a little too much time on
ravelry
. In loading up some stash, it makes you really look at all that yarn and wonder what were you thinking?! I think when I really got crazy about knitting I just started buying yarn without having a project in mind...or thinking I would knit something and then never do...so I have put a bunch of yarn and pattern books up on my
sell/trade
page in hopes of aquring some yarn that I will actually use now. I pretty much have the stash down to one under the bed storage container...well, plus one big basket (but some of that was from my
sister's surrendering
...so it's technically not mine!)
FYI my coffee tastes like dirt. I am going out for my timmies.
More to come, hopefully this week!