Dear knitting friends.
Something horrible has happened.
A knitter has surrendered.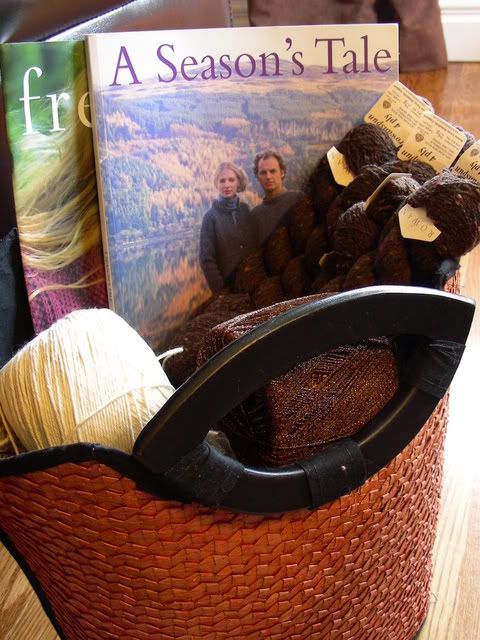 I found this on my door step.
Two wonderful pattern books...some freedom cotton yarn (enough for a sweater), some 4ply rowanspun...needles...notations....even a fabulous knitting bag.
I know who left it...my sister.
You see, her work (law) consumes her time. She had attempted to knit, but was never really hooked...let's say as I "could" possibly be hooked (the first step to addiction recovery is recognizing the problem...I have no problem...)
I had discouraged this "occasional" knitter from attempting a sweater of 4 ply yarn...CRAZY! I also tried to sway her from purchasing cotton for a sweater (not so easy to knit with, sometimes painful...literally).
She surrendered her knitting to me.
Now, here is the problem. (yes, there is a problem...not just free knitting stuff!)
Lets say hypothetically that a certain family draws names for christmas gifts. Let's say that a certain person from said family...a knitter, lets say...drew the name of another person...a knitter who just surrendered. Does that knitter knit one of the sweaters that the knitter who surrendered had wanted to knit for herself???
Are you following me here...are you picking up what I am putting down?
Here are the sweaters in question:
Isla
by Kim Hargreaves. It is a st st pattern for a raglan pullover knit with 4 ply yarn on US#1 and #2 needles!!!! Can you imagine knitting that?!
the second choice
Monika
in freedom cotton DK. A zippered cardigan (I prefer buttoned up) in an interesting rib pattern with some moss st...but knit in cotton.
OR
Do I do something else with the yarn...maybe double up the 4 ply and knit a vest or something.
HELP.