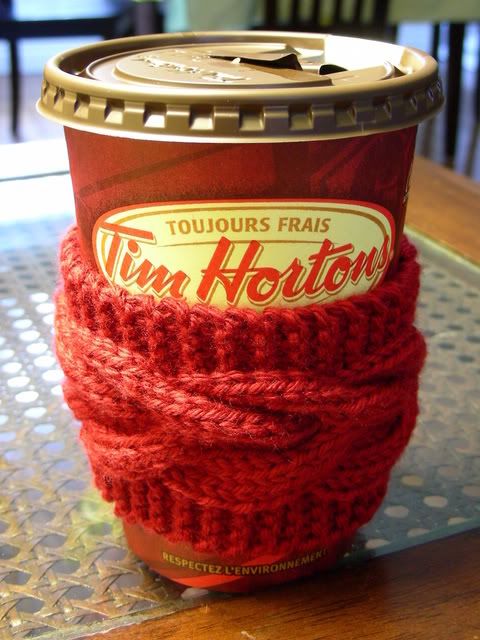 Need I say more?
I used up some cashmerino aran for this little
coffee sleeve
. (Catherine the idea is not origional...and the pattern is not mine...and would Tim Hortons really want to sell knit sleeves for their cups?)
I could say a little less...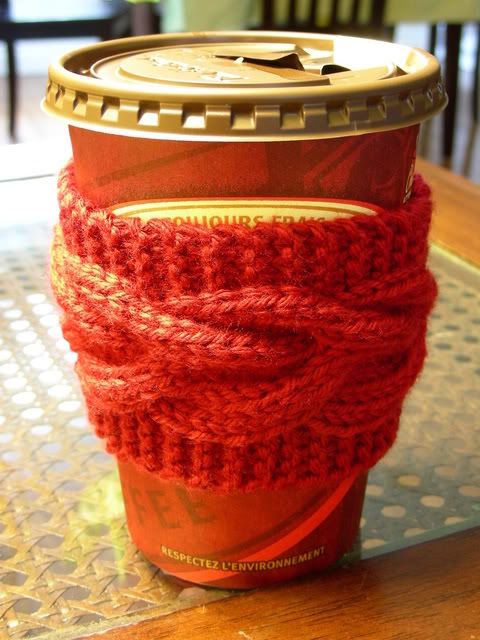 They aren't paying me to advertise...if that was an option I will do it for free coffee, but it must be delivered!
In other knitting news...

Thanks to
Ashely
who gave me the "you make my day award"! It's so nice to know people are still reading my blog...I know I disappeared for a while....and don't have time to knit and blog like I used to. I am just starting to get back into it...hang in there;)
So, I will pass on the award...of course to many who have already received it...so many make MY day. These people are serious knitters who's blogs are a must read for me (in no particular order)
1. Jared over at
brooklyntweed
. You know why if you have ever been on his blog.
2. Laura over at
cosmicpluto
. She knits some beautiful sweaters.
3. Kirsten over at
throughtheloops
. A fabulous knitter and her photos really capture her hand knits in action.
4. Franklin over at
panopticon
. He is hilarious! I recently discovered his blog...it's a must read!
5. Julie at
littlecottonrabbits
. Go check out the gorgeous little creatures she knits! I don't remember how I stumbled upon her blog, but I am glad I did.
There are so many others...I could sit here all day listing them...but I have some knitting to do!