I finished another pair of mittens...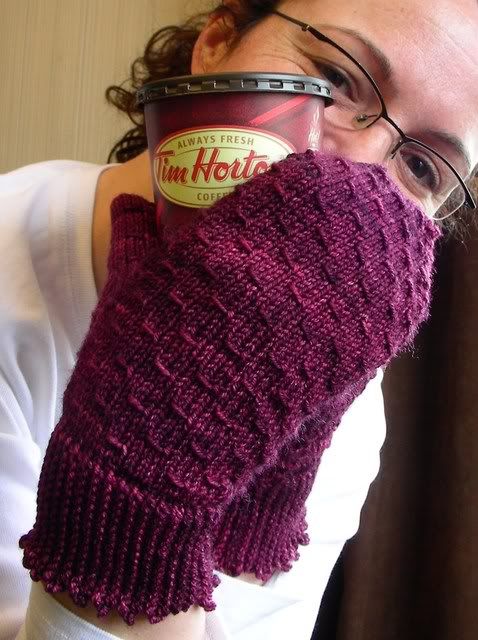 Pattern:
Picot edged mittens
Yarn:
Sundara
Sport weight merino
( I used one skein...it could have been a parital skein, I am not sure...but it was one that left me with about 1 meter of yarn! A close one!)


Yeah, I am hiding. I haven't showered yet and it's 1:00. I tried out some of the suggestions...set up the coffee maker...dirt...then I bought the tims grinds...a little better dirt. I really don't get it. So my sister says...just walk to the one in the hospital.
Yes, it is true...there is one about 1/2 block away in the entrance of the hospital. I thought it had closed (I think my DH said so...but it says it is only open mon-fri). Normally I would have my coffee as I get ready for work, or if not working I would sit and relax with the laptop and catch up on some knitting news and blogs and maybe do a little blogging myself.
RELAX is the key word here.
So this morning I had breakfast and got the kids in their snowpants and coats, hats, scarves and mitts. I threw on some jogging pants and a coat with the snow boots and of course a knit had to cover the unwashed hair.
Zeebee
was the choice this morning. We ventured in the snow to the Tim Hortons. I got my coffee and then thought while out there I should reshovel (some kind neighbour...not sure which one yet...shoveled the "dumping" we got yesterday for me). I also noticed the recycling truck making it's way down the street and ran to get that out. Of course the kids are with me so everything is really a "big ordeal" to get done. My coffee got a little cold (yes the cozy didn't really help...but I have another in mind...with a little fairisle work maybe...a little longer...we'll see) and I would hardly call it relaxing. We got a call from a friend to meet them at the "hill" for some tobogganing...so we went to do that. Ran home and put everything in the dryer, made lunch and got them off to school.
I just walked to the Tim's again to get the secound round...and this time I am sitting relaxing. I am thinking about a shower....maybe a work out first..or do I work out when the kids are home and do a little knitting now. Oh...and the house needs a little cleaning. Hmmmm.
I think I will just relax.
FYI no one has called to offer free coffee for the free advertising I am giving them...can't say I didn't try.