Finally, I am knitting sweaters! Enough with the mitts and hats...it's sweater time.
Firstly (yes, I have two sweaters on the go...a first for me), I have Demi of
Rowan's vintage knits
. I picked up some Jo Sharp silkroad aran tweed 1/2 price...and there were 12 balls left, just the number I needed! Perfect! It is a dark purply-blue colour that is impossible to photograph.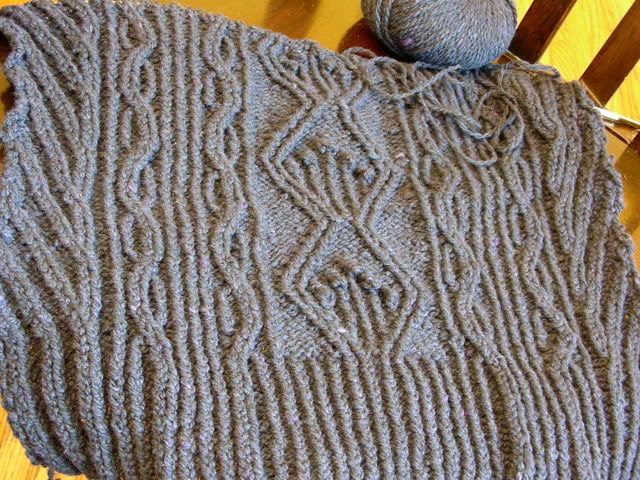 I just can't seem to capture the colour.
The first part of the chart was intense...but I soon got the hang of it. I am not sure why one of the cables are three knit stitches and not 2 knit 1 purl...I am assuming for ease of charting it. There are I think two points when you have to use the 3 knit stitches. I was a little confused at the chart (the symbols are also not what I am used to) but I just went with what I thought it should be and now just knit to create the fabric. I do have to really watch the stitches though and occasionally refer to the chart. It is not the best TV watching project.
For that reason, I cast on Stephanie Japel's Puff Sleeved Cardigan of
Fitted Knits
.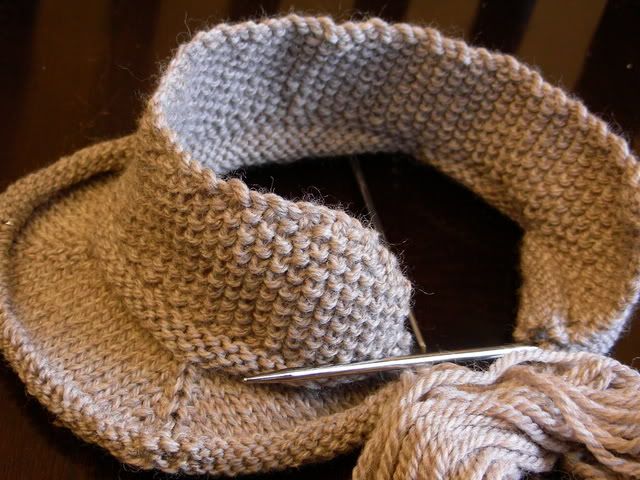 I love her patterns. This is my favourite way to knit sweaters...top down in one piece. You go back to finish the sleeves and button band then there is very minimal seaming. Not that I don't enjoy seaming, but I like the fact that when I am done a piece, I am pretty much done the sweater!
The only down side to this are the never ending rows...I am close to 300 stitches now working across the yolk and the sleeves...but really I am just about 1/2 way done the sweater!
The yarn Linie 157 Tesssa I have had in the stash for a while...not really paying much attention to it. I am not sure why I bought this colour...but I am really loving it knit as this sweater. It is a superwash wool and knits up smoothly. I especially love the hairy halo.
Hopefully by next week I will have a finished back to Demi and possibly a finished sweater!