Tucker the monkey I and II are complete!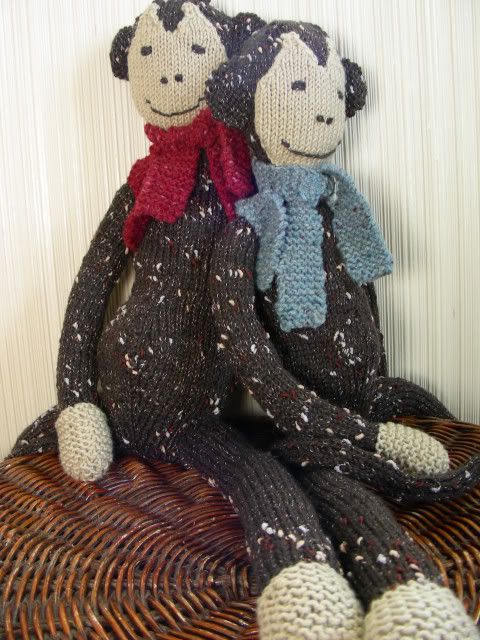 Started:
April 1, 2007
Finished:
April 18, 2007
Yarn:
2 balls of
magic buttons
in brown and left over Rowan wool/
cotton
for face, hands and feet. Scraps of red tweed and blue tweed for vest and scarf.
Pattern:
Tucker the Monkey
from Tracy Chapman's
Toys to Knit.

Adjustments:
Where do I begin? There seem to be many errors in this book. It is a good thing that I have some knitting knowledge and basically use these patterns for templates! The yarn and needle size are off...and there are no gauges in the entire book. Does it matter how big your monkey is?
Anyway, I don't really like making all these little pieces when I can knit them in the round. So I made the head in the round as well as the body in the round. This helped
tremendously
when it came to seaming. I also used my knitting knowledge when it came to decreasing...not everything is done on the last stitch or is just a k2tog...use those skills people!
I decided to give them more of a pot belly...come on...look at those bellies!
They are
soooo
cute! My three year old keeps asking if one is his, so I guess I better whip up another. I do have a couple ball left...just enough for one more!
Check out these faces...
not
ones that only a mother could love...