You are all so fabulous. The ideas and tips you gave are so helpful. I had considered just redoing the ribbing and grafting it where the stocking stitch starts...such a big job...but certainly easier than grafting ribbing. Why not go a little further...as
Jackie
suggests, and cut off the ribbing and pick up the stocking stitch then knit down from there including the ribbing. It's not a big deal...the entire sweater is not ribbing, but the bottom 6/7" is. Or what about this...cut off the ribbing, pick up the st st and put it on the needles...knit the 3" in stocking stitch that needs to be added then graft the ribbing (with a row of st st still attached) to the new length? Then I don't have to reknit the ribbing. The one problem is the pockets...but I could lengthen them as well. Oh this is just turning into a big job!
Bottom line, I am going to fix it...how, I haven't decided yet. Let me just say, my FIL better wear this sweater every damn day! I'll tackle it after the Ballet Wrap is complete...which will be tonight!
NOW...the first FO of 2006....Picovoli: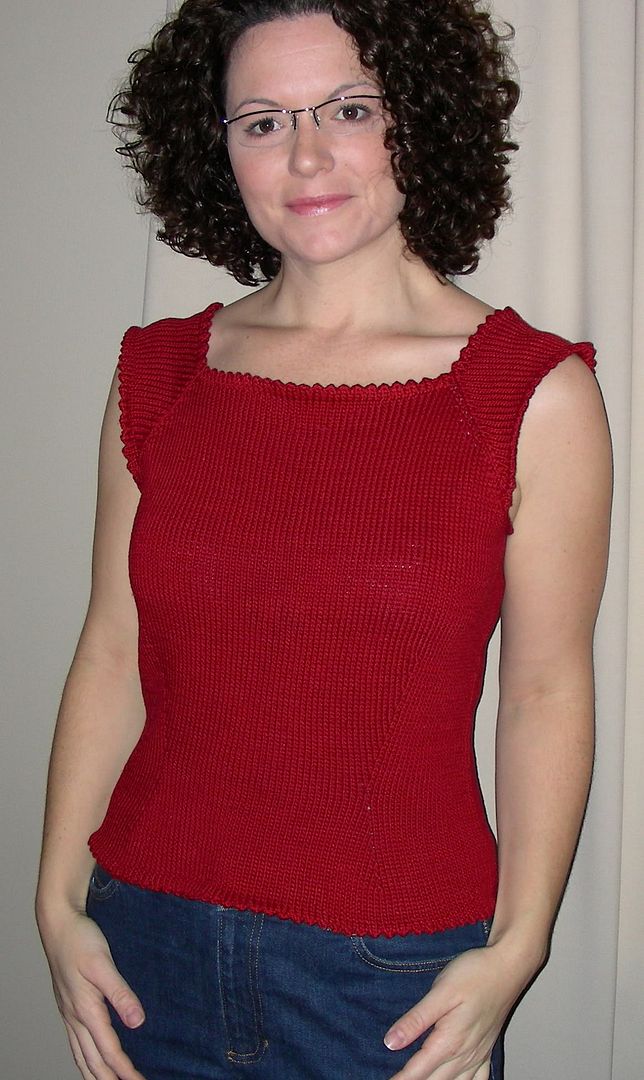 Started:
December 30, 2005
Finished:
January 8, 2006
Pattern:
Picovoli
(Oh please help with this...I always forget to ask, does anyone else have problems printing a pattern from Magknits? The right side is always cut off, I've tired moving the margins.)
Yarn:
butterfly mercerized cotton
. The red did bleed...be forewarned. I will add vinegar to the next wash. Also keep in mind that cotton grows after wear. Notice how fitted the
garment was while knitting
...and it skims the body now...with some negative ease at the bust line. I measure a 38" bust and I knit a 36".
Adjustments:
No real adjustments here. I did screw up the increases under the bust and did the first 4 every 5th row instead of 4th. I didn't rip back, deciding it wasn't a big deal...but I probably should have. There is more room there than I would like, after blocking. I did compensate by only knitting an inch inbetween the increases and decreases instead of the 1.5" that the pattern called for. Whatever, I love it anyway!
A little
tip
from
Grumperina
, found over at this here little
KAL
I joined (oh yeah baby) in regards to the rolling of the edges...use an iron with steam. This worked wonderfully. I wet a cloth napkin and put it over the edges then steam ironed. Beautiful.