Ok, first off. I have changed some settings for commenting...some people were unable to comment on the site because they are not "bloggers" so I changed that...be it good or bad! I have a similar problem on
sweetgeorgia's
site...Felicia if you are out there...I can never comment on your site...can I just say I love your knitting...love it.
Now, may I take up a moment of your time to impress you. I played today with my swatch...that's what swatches are for! I tried many decreases, increases, slip sts....here they are: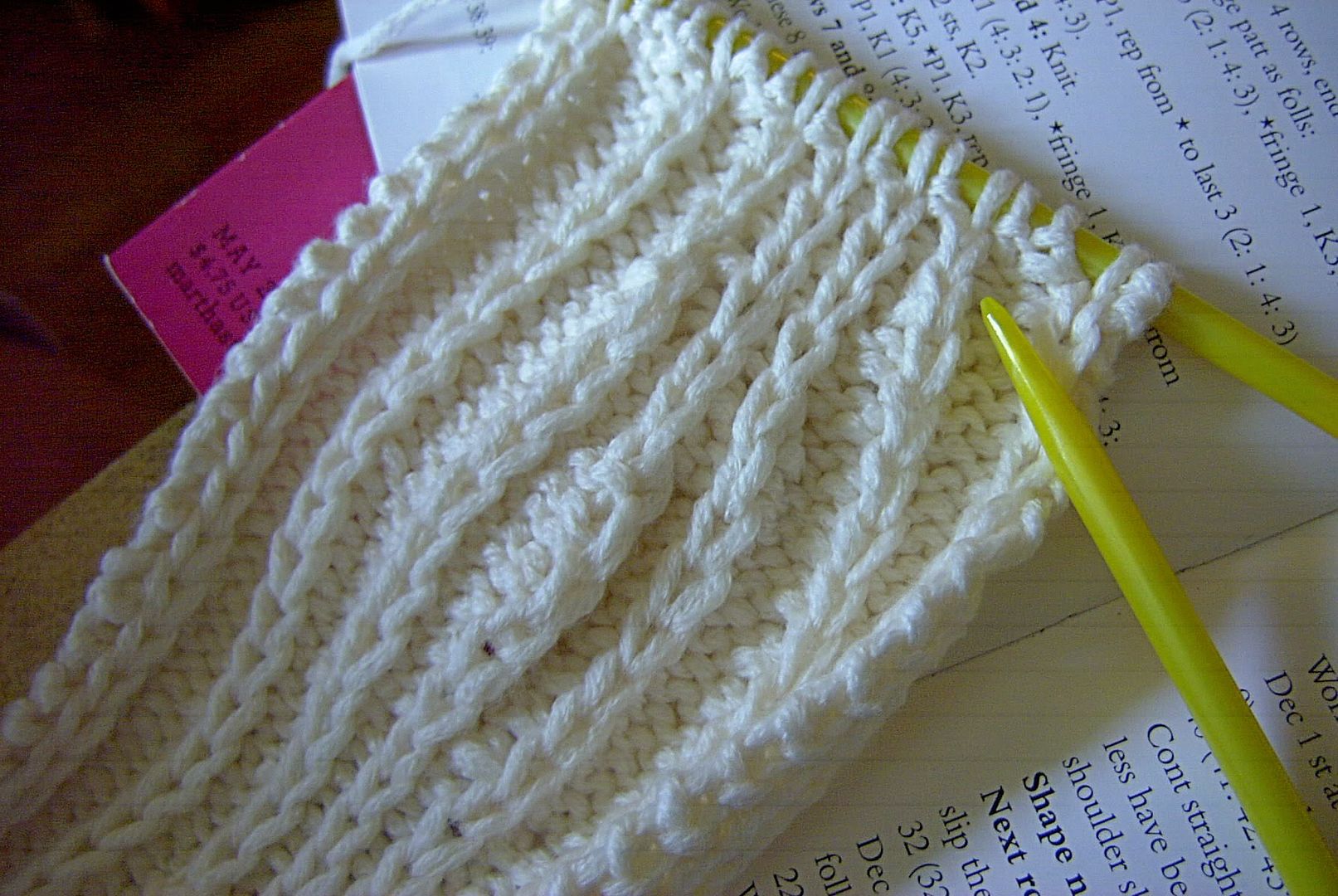 I tried to point to the final choice with the other needle...wish I could make a fancy arrow on some program but don't have the time to figure that out! So I used my new knowledge of cabling without a cable needle and moved that slip stitch to the left. I then slipped the two purls plus the slipped stitch onto the right needle yib. Continued and on the WS I purled those three together...voila! A beautiful decrease with the slipped stitch in place. Thank you, thank you, no applause please.....no really...come on....ok...
I am a knitting diva
!
Now I am half way up the back of "Loll" with no batteries in the camera, so you will have to wait.
I did visit my LYS today to pick up some needles...THAT IS ALL...don't look at me like
that
, I bought no yarn...none. I did however find the spring
interweave knits
. I know I am late in the game, but very excited about this magazine. Anyway, I have started my
Christmas knitting
! Well, not actually started, like on the needles...but the planning...oh yeah. For fear that the person who will be receiving this lovely handknit, priceless, gift is reading my blog, it will have to be kept somewhat secret. So, turn to page 52....don't you just love it! You know who it is for! Elann.com has some lovely Jo Sharp Silkroad DK Tweed that would work perfect. Hmmmm...what colour....
What about page 92....yeah I can handle those! She'll love them!
Man do I have some knitting to do!...
"Just hear those sleigh bells, jingalin'...ring ting tingalin' tooooo......."