Not one, not two...but three!
I know, this is not like me. I like the challenging ones...the fine gauge...but suddenly I find myself knitting thick knits and a whole lot of st st.
With all the stomach flu...causing lack of sleep...Demi is moving, but slowly. I will hopefully finish the back over the weekend.
So the Puff Sleeved Cardigan is complete and should be dry today. Hopefully I will have a couple moments to stop and get some buttons before work. This could mean a finished knit to show you by Friday! A sweater....horray! Here is a sneak peak of her
blocking
.
I received some wonderful yarn as a trade on Ravelry.
Soho
by Debbie Bliss. I haven't met this yarn before (I know...what kind of a DB fan am I if I haven't tried every yarn?!) but I must say that I love it! It is thick and thin and reminds me of malabrigo...not as super soft, but soft yes. I believe this yarn was replaced with Maya...for what reasons I do not know. I, however, lucked out and have 6 balls. Well...had...because I knit them over the past couple days!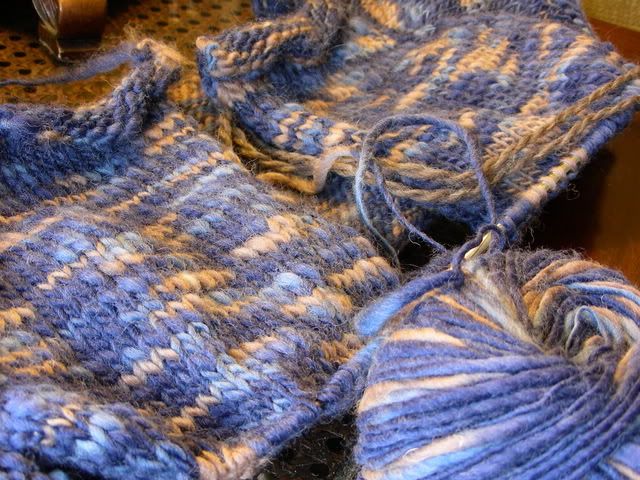 I decided to start the Thick and Thin Cardigan by Stephanie Japel. Another great pattern in
Fitted Knits
. The guage is different than that called for in the pattern, so there are a couple minor adjustments. Being a top down knit...you just try it on as you go and make a perfectly fitted sweater. I did a little waist shaping even though it is not called for in this pattern. I knit 3 balls then decided to go to the arms and length them a little. They will end up being a half sleeve, but I didn't want to run out of yarn. So after the sleeve lengthening I just knit the rest in the body. I ended up at just below the waist (shorter than the actual version) and now I will just finish off with ribbing.
Well, once I figure out what contrasting yarn to use...a trip to the LYS is in order.
Thanks for all of your suggestions with cleaning up the accident the other day. There still is a stench from the keyboard...I will try compressed air and just hope that it disipates eventually..or this may need a professional cleaning. Love all the "barf" stories;)