Hey Look! A sweater!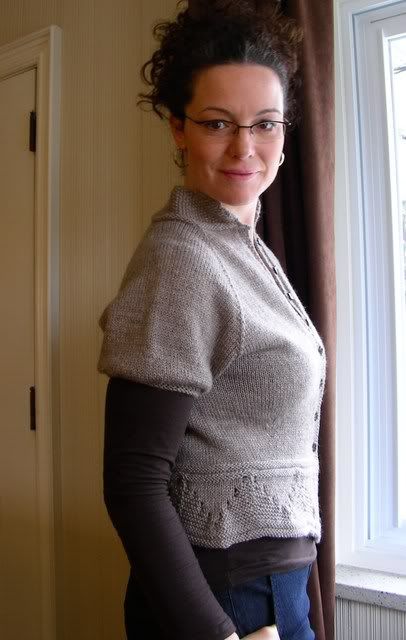 Pattern:
Puffed Sleeved Cardigan from Stephanie Japel's
Fitted Knits
....LOVE, LOVE, LOVE this book.
Yarn:
8 skeins of
Online Linie 157 Tessa
. There was nothing left but a 4 inch tail to sew in. I was holding my breath until the end.
I really like this yarn! It has sat in my stash for a long time...It was suppose to be a scarf for someone else. The colour I didn't really love...until I knit it into a sweater. Now I am thinking of going to get some more of this stuff. It is inexpensive and it is superwash! Crazy, I know! I did hand wash it and it really softened up.
Adjustments:
The only thing I did was make 12 button holes on the button band. I made it to fit...as directed. It turned out perfectly. I would have used smaller needles on the collar to make it a little stiffer. But other than that, I LOVE this sweater.
It is a simple knit. Perfect for watching TV....distractions are OK;)
I picked up some buttons at the local notions store for about $2...
Can't beat that!
Stephanie
is brilliant. I really enjoy knitting from the top down in one piece and it is fitted, as promised.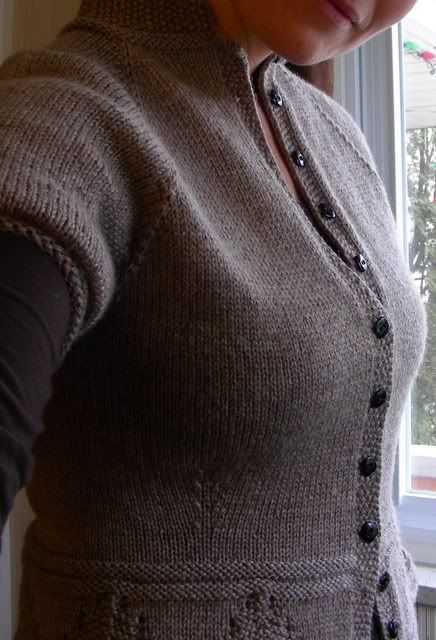 This is actually something I would wear...who would have thought about actually wearing sweaters we knit! In fact, it has already made it's way around town...with more stops to go tomorrow.
Two sweaters still on the needles...and moving!