I once knit up one of the Itty Bitty Bears from
Interweave knits summer 2005
for my youngest. He named him Beary. Beary rides in a little toy car, he sits in his pocket...his little pal...at the moment Beary is lost. But that's another story...
My eldest asks me for a little knit bear...just like Beary. So last night I made him one with some scrap yarn. He loves it! He watched me knit him...asking questions...like
"What do you stuff him with?"
"just some scrap yarn" I would say...
Then it hit me...
what a wonderful idea...
I could knit an Itty Bitty Bear and store repair yarn in him. Can't you just see it!
Let's say you are knitting socks for someone as a gift. You knit a little bear and stuff it with leftover sock yarn. If they are a true hand knit sock wearer...they may wear a small hole in it...and the yarn to repair it is in the bear!
You see!? Look out Sockapalooza! You can make a sock sleeve and put the socks in it then have the little bear peeking out! Brilliant!
Yes, it's true, you will not fit enough to knit the toes again...or an entire heel...but to fix a hole it would be perfect!
What about for gloves...like the Twisted Stitch Gauntlets I just made.
Sew him up...stuff him and voila!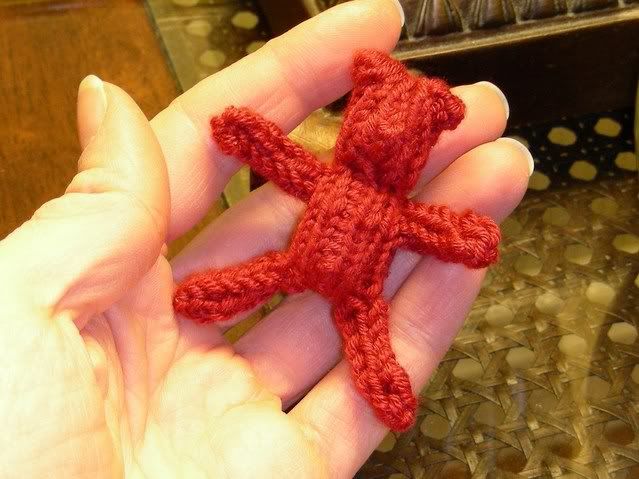 An Itty Bitty Repair Bear! This guy is a little over stuffed...I was trying to get as much yarn as I could in him. I have also carefully sewn in the end and finished were a tail would be...then I know how to open him up to get the yarn out!