Finally...they are complete!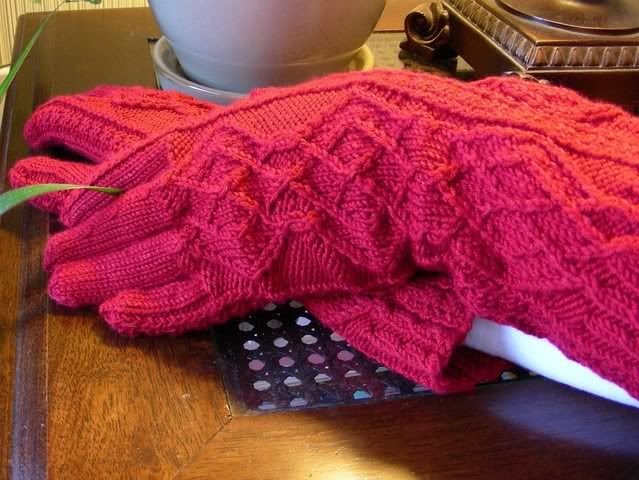 Started:
December 9, 2007
Finished:
January 23, 2008
Pattern:
Twisted Stitch Gauntlets
Interweave Knits Holiday 2007
Yarn:
Debbie Bliss Baby Cashmerino in red 3 balls.
Here
is a photo with true colour.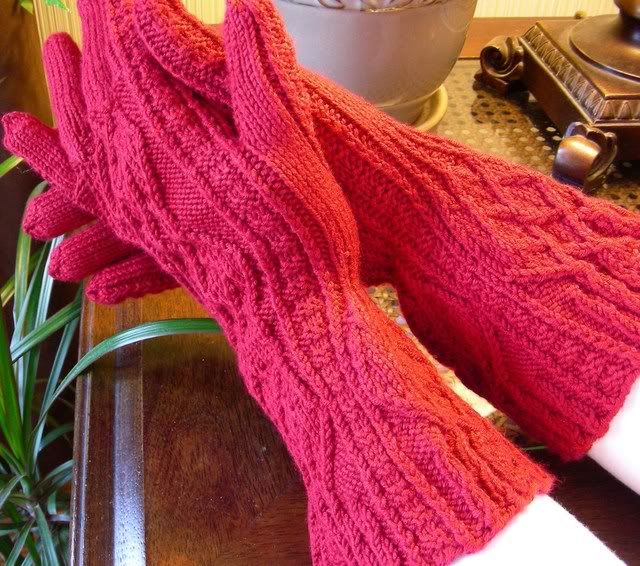 I really loved these gloves when I saw the pattern. I had the yarn in the stash and wanted to make them for a gift. So they were to be the Christmas gift for my sister...well, it is a little late! I was really gung ho knitting the first one...and then got a little SGS (second glove syndrome). I must say overall, they are nice. I love the yarn...as you know...and I love working the charts. The only thing that I don't really like is the thick fingers. I guess I am not a hand knit glove lover. Mitts are for me.
Any who...they are done...my sister is in town today and she can finally have them!
What is next...I don't know...it may require a trip to the LYS. I am really having sweater knitting withdrawl.
Enought with the hats, scarves and mitts! I need a sweater!
P.S thanks for the comments on the Picot Edged Mittens. Please let me know if you make them...and of course let me know if you find any errors...the pattern was kind of confusing to write.