Let's just face the facts here.
You are going to be seeing a lot of hats.
They're easy to knit...yet you can make them complicated...a great way to use up yarn, or try out a new yarn...most people wear them...they knit up fairly quickly...and of course, they make a great gift.
So, I present to you...a couple of koolhaas!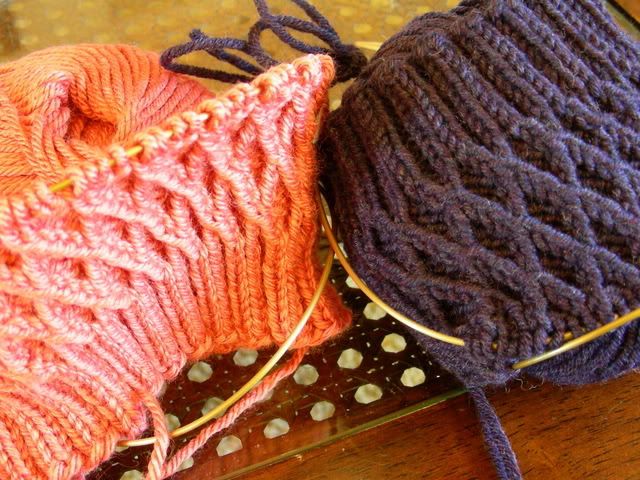 The pink is Rowan cashsoft and the purple is Zara. So far, so good.
Now, more hats.
I was reading the lastest issue of one of my
favourite magazines
and came across a knit hat...which I loved....and which looked really familiar.
Here's a little split screen of the magazine feature and the pattern I found (vogue knitting winter 05/06)...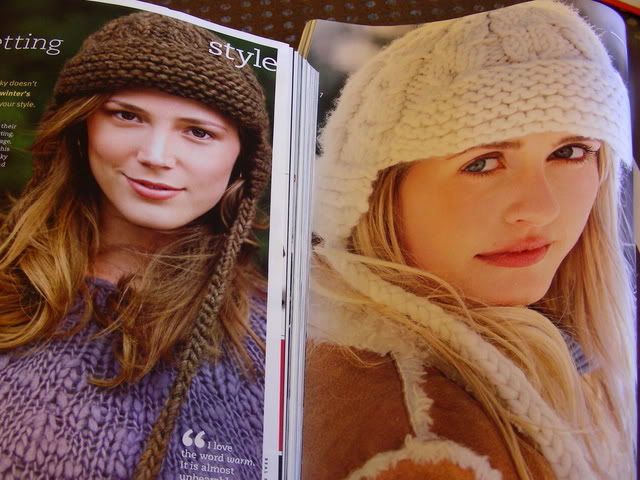 Hmmmm.
You could buy the brown hat for a mere $250....or how about knitting that in one night with some great chunky yarn?
We both know the answer.
FYI the labels for sweaters I ordered from
here
. I don't remember why I choose this place...the font...the size of the label...the price...whatever the reason, they were the best for what I needed. You don't break the bank, and they are a great touch on a finished knit!
Oh...one last thing...
I was in Walmart yesterday...and they were playing jingle bells.
The Christmas decorations are all out.
There was frost on the grass this morning.
Let's face the facts...it is officially hat wearing weather.