The manly mittens are complete...well, they have been for a few days, and there has been a flurry of knitting going on here...with no blogging (as many of you could tell by the lack of bandwith for my photos. Oh...am I using that much...I don't think so...please stop stealing my bandwith whomever you are)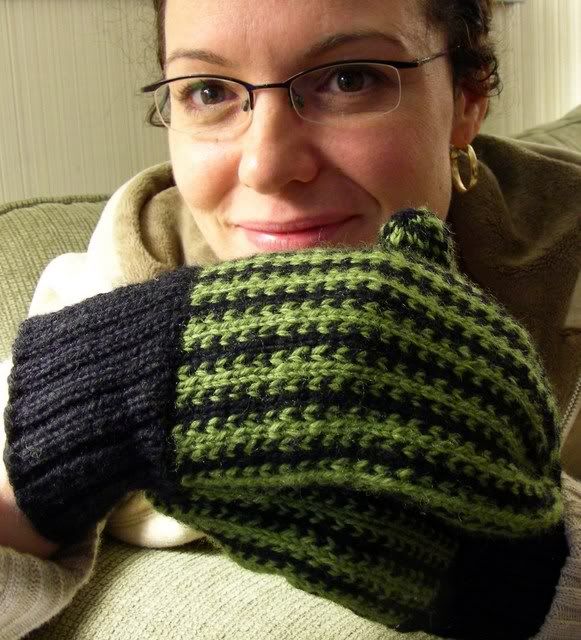 Started:
November 11, 2007
Finished:
I don't know...a week ago?
Yarn:
Patons Classic Merino
in green and black (one ball of each)
Pattern:
Manly Mittens
This is a great beginners project for colourwork. A really simple pattern, and there is no yarn twisting, only floats. Give it a go!
My DH actually expressed an interest in these...hmmm...and another gets added to the list!
(yeah, I am stopping with the close up photos...never before have I noticed so many wrinkles. I am aging people...and I am noticing it...it is a sad day)
Any who...Hats...prepare yourselves for more hats...
I've actually got a simple little hat pattern to share with you. I knit one...that my son had to have...so I knit another...that my other son claimed...then I knit the one from the list that I had intended to do...so let's say it has been test knitted a couple times. I actually am going to make another! Hopefully I will have it for you by next week...this weekend is a little crazy.