I have been searching and searching for a sock pattern I wanted to knit. I started jaywalkers...but it wasn't working out for me. (don't get me wrong...it's a great pattern, I've knit one pair...but this yarn wasn't loving it)
I missed out on sockapalooza...it just wasn't a good time for me...next one!
Now with all the Socktoberfest posting in knittingland...I had to do something.
I came across
this
pattern.
Great for varigated yarn...and perfect for the koigu that's been burning a hole in my stash!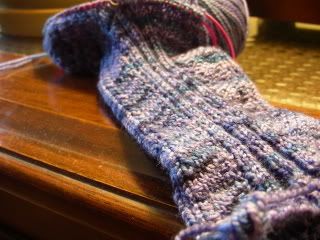 It is like riding my bike again....oh socks, how I have missed knitting you! I don't know what I was thinking?!
In an ideal world, I will be knitting four pair of socks this Socktober...will that happen? We will see. This, my dear knitting friends, will be the beginning of the Christmas knits!
FYI I found the Ampersand sock pattern writer on
this blog
. With my life a constant "catch up", I love the idea of previewing all those great knittng blog entries out there.
Yes, I still read all those blogs that I have in my bloglines...but many I just scroll through...no real reading. I love that I can learn of some fantastic knitters...many of which are new to me, PLUS I have come across some great free patterns and some inspiration!