I finished my first (and probably only completed pair) pair of socks for Socktoberfest!
This also marks the first official Christmas knit...complete!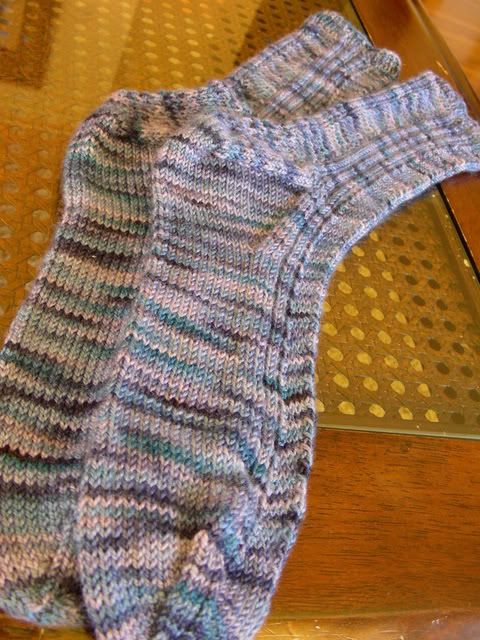 Started:
October 1, 2007
Finished:
October 16, 2007
Pattern:
Ampersand
socks
Yarn:
Koigu 2 skeins knit on knitpicks #2 needles. 14sts 18rows/2inches unstretched
Adjustments:
None to speak of, just foot length.
This pattern is great for variegated yarn. I am just glad to have completed something...especially a Christmas Knit.
What are the planned Christmas Knits you ask?
A pair of socks or two...
the Ampersand
and possible knee socks.
A pair of socks...gentlemen's shooting stockings...and possibly mittens and hat
A major knit...sweater possibly or a vest (even more possible...you know the whole 4 ply issue).
A hat for K.R.
A hat for N.R.
A hat for B.K. black tweed Zeebee. (it's been done for a couple weeks...awaiting grafting)
A pair of mitts for L.K. (possibly with pattern...maybe skulls?)
A hat for C.A.
A hat for C.A.
A hat for C.
A hat for S.S.
A hat for A.S. (possibly the koolhaas hat)
A hat for F.M. (koolhaas again)
A hat for C.M. (koolhaas)
A hat and possible a coat like sweater for G.M. (yes the youngest is always spoiled)
Something for my boys...hats, mitts, stuffed animals they seem to be interested in.
Those are definite...but if time permits....the list, of course, grows!