Ok
, the funniest thing ever...
So after a long hard day of work, I sit to unwind on the couch and my DH hands me my mail. I quickly toss aside the bills to get to the good stuff...
IK

Spring 2007
.
Me: "OH good...
grumperina
has a great sock pattern in this issue. She finally has a pattern published in print! Brilliant!"
DH: "
Grumperina
is in that book?"
Me: "
HAHAHHHHAAA
oh my you can't be serious!" as I flip through the pages...stopping on page 18.
DH: "THAT'S
GRUMPERINA
?" (Spoken with such interest...like a new found love of knitting!)
Me: "No. No dear, that is not her. Most of the knitters I "know" don't knit these things...or model them on their web sites!"
So Kathy...firstly BRAVO! What an accomplishment and...if I ever make it to Cambridge, MA to meet up for a coffee and some knitting...he won't be joining us!
Back to the IK issue...there are some patterns that do look interesting.
The socks of course...both
grumperina's
and
Eunny's
. Not that I would wear Eunny's
Entrelac
socks, but I would love to knit them.
I really like the
Dollar and A Half Cardigan
...but I think I would make the fronts the same...I do like each side, though.
I may knit one of the staff projects...for fun. But I'll let you see it (NOT MODELED) when I knit it;)
The
skirt
is really cute...I would love to knit a skirt.
I love
this little sweater
...but I don't like the yarn "double breasted" it seems to add bulk on me.
This
is just beautiful.
Like I have time to knit any of those...but whatever...we can dream can't we?
And finally, I did make more progress on AIR.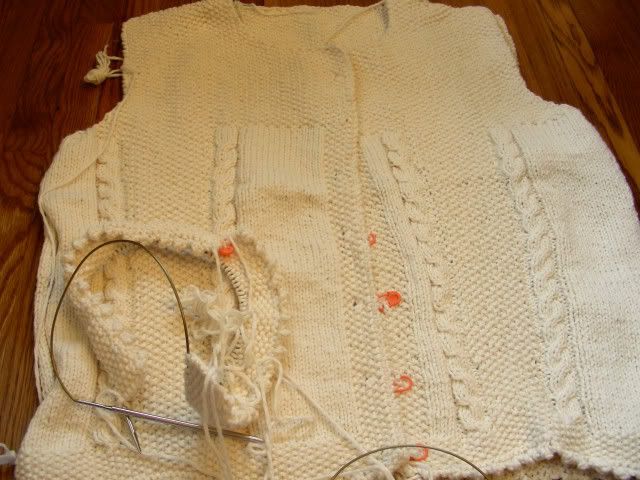 The fronts are complete (well, not the flap pocket tops yet) and I have started the sleeves. The cuff has some pattern to it then it's st st till the end...it won't be long now.
Did you even notice the "mistake" in the cables? You would have to refer back to
the finished photo.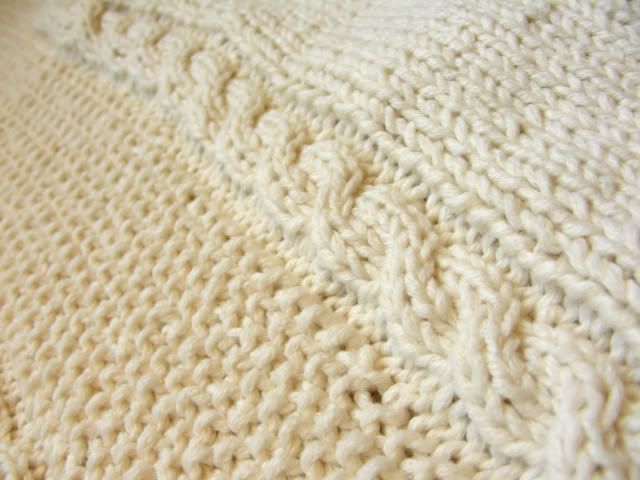 No? ME neither!!
Any wagers as to when this sweater will be complete? I have today and Thursday off...then most evenings with the exception of
Friday
(so count that day out)....
OH MY GOD!!! I HAVE LOST MY MIND. DO YOU SEE!!!!!!! I CAN'T EVEN WRITE ABOUT IT NOW.
I HAVE BEEN KNITTING THESE TWO FRONT PIECES FOR A WEEK AND NEVER EVEN NOTICED THE BIGGEST MISTAKE OF MY KNITTING CAREER.
I give up...I just don't think I can knit and work.