OH the weather out side is frightful
....Not really.
It's 60 degrees here today...hardly what I would consider a winter day.
Where are the below freezing temps?
Where is the snow?
Where is the wool wearing weather?????
With that, let me show you a couple of completed hats...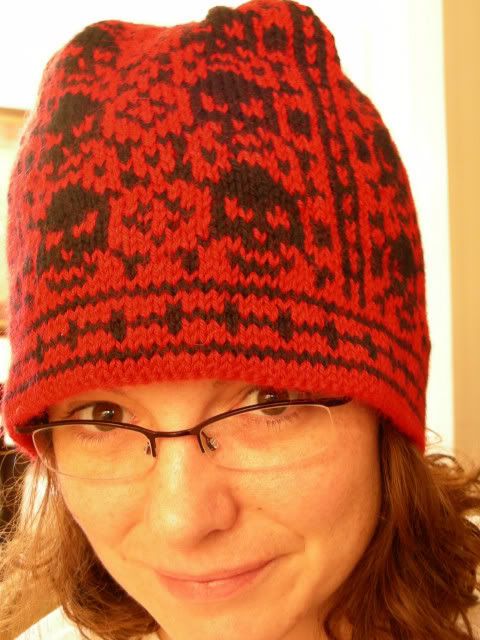 Started:
Nov 4, 2006
Finished:
Nov 22, 2006
Pattern:
We call them pirates
hat
Yarn:
Patons Classic merino in red and black.
Needles:
I think US#6...I don't remember now.
Adjustments:
None. It is a little big....but I like it that way...hopefully my nephew will too!
Started:
Nov 26, 2006
Finished:
Nov 28, 2006
Pattern:
Ribbed helmet from Behive's Winter Headwear (see post below)
Yarn:
Diamond Tempo
. Green (with flecks of blue in it) and red...as requested.
It's only 25% wool but it is machine washable and dryable. This is necessary for this household...I have seen my knits felted.
I have used this yarn before...it's not my favourite yarn, but it is a good washable one.
Needles:
US#4 and US#5
Adjustments:
I ended up knitting the child size and then after trying it on my son, I added a little length to the head.
Two more done...
...
but the fire is so delightful...since we've no place to go...let it snow, let it snow, let it snow!