This is cute...like really cute...consider yourself warned...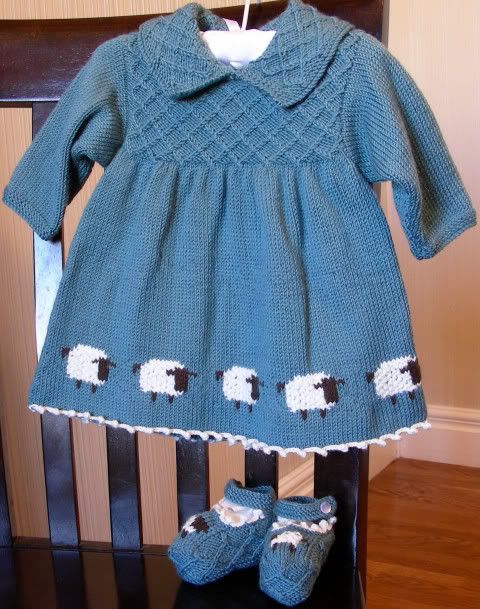 Started:
October 25, 2006
Finished:
November 17, 2006
Pattern:
Sheep Dress and Booties from Debbie Bliss
Baby Knits
.
Yarn:
Baby Cashmerino in teal, cream and brown. I knit the 6-9 months size and used 5 balls of the teal and a little bit of the other two colours.
Needles:
Knit picks US#2 and Addis US# 3
Adjustments:
Wellllll....I had some gauge issues...so I was going to make it a smaller size because with my gauge it would work out to the 6-9 month...but my gauge changed for some reason and I had more stitches to the inch. I had to go back to the pattern as written, so the skirt should be fuller...I didn't rip it back. I knit the skirt in the round using fair isle, instead of back and forth as written with intarsia.
I added a button at the back which forced me to split the collar. I was worried about the head getting in there...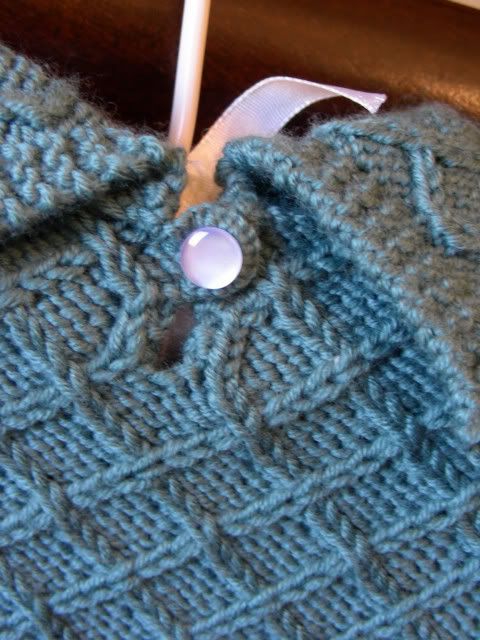 It turned out just fine. No worries about that head now!
The booties...
Debbie bliss booties are the cutest...
Now, after seeing that baby this weekend...I am worried about the size. I really hope it will fit her at christmas...I may have to give it to her early! She is only 2 months! Stop feeding that baby so much Christina!
Another one off the list...Fa la la la la...la la la la.