Ok...we have already established the insanity with Christmas knitting here.
Let's be serious for a moment. I will knit for parents, nieces and nephews...oh and the sibling gift...for sure. The others are if I have time, which I probably will make time...we will see.
So I attempt the EZ baby sweater...well...she doesn't really give a size and my gauge is different than the "pattern" gauge...I know it will be too small. I push some numbers around, in much frustration, and decide to look for a baby sweater sizing schematic...to see how big it should really be.
I go through that
Debbie Bliss Baby Knits book
, you know the one. Yeah, no schematics here.
I remember a couple things from this book that I would love to knit...oh the baby knits.
That dress, that is totally insane...oh that dress.
I have to knit it for my new niece.
So instead of a quick little baby sweater, I now have a major knit on my hands...
Here is the first attempt...as written, in intarsia. ( I steamed the edge to see if it would actually lie flat...baby cashmerino seriously rolls in stst)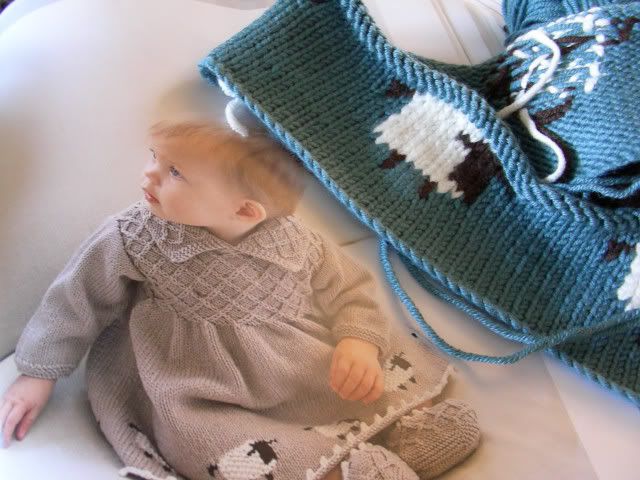 I hate intarsia. Also, why are the back and fronts knit in pieces...I guess for the simplicity of writting a pattern...but I want to knit the skirt of the dress in the round and use fair isle. Also my gauge is off...so a little math later...we come up with this...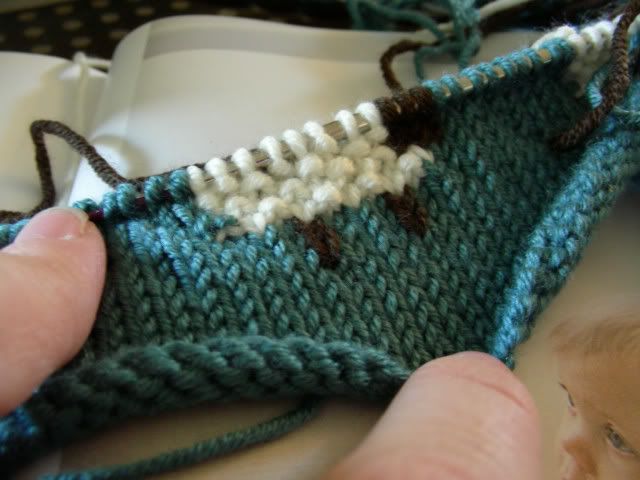 Much better.
The first attempt I knit the chart as written, but to get that smooth look on the bottom of the sheep, you must knit the first row in st st. ( you see that purl bump on the sheep's rear...that is what the whole row would look like if knit as the chart is written) Then the rest of the sheep in moss...I likey the moss stitch sheep.
I know that the floats may be a problem for those little toes...so I will HAVE To knit the matching booties...