I finished these little babies up on the weekend...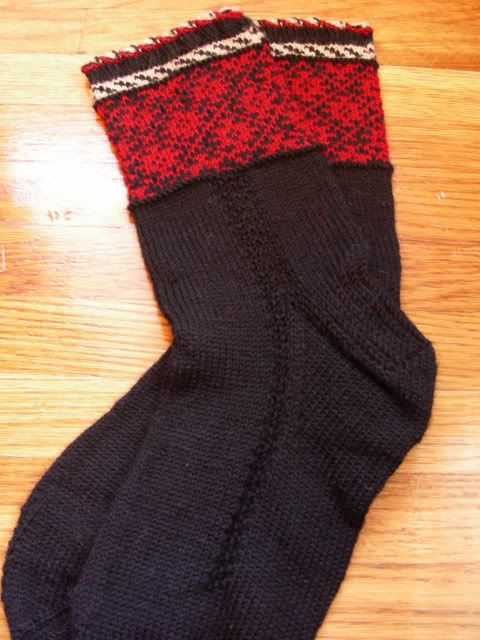 Started:
Sept 23, 2006
Finished:
Oct 21, 2006
Yarn:
Elann's Devon in Black (2 balls) and one ball of red and beige.
Pattern:
Nancy Bush's Canada Socks in Knitting on the Road.
Needles
: Knitpicks US#2...the second sock's fair isle is a little tighter...not sure why, but I hope it all works out after a little wear.
Adjustments:
None really. A little length in the foot.
I really like these socks. They did get put on the back burner a couple of times for other projects, but they were fun to knit. I must say that I don't really like knitting with black yarn, it is really hard to see your stitch pattern unless you are sitting right under a light.
Fun socks, and another off the list!
FYI: some have asked about the dolls...I continually work on outfits and the dolls hoping to have another done to show you this month. They are from
this book
.
Also, I am lining my hats with whatever soft merino I have. Some of you have suggested fleece yarn to me, but I am really trying to use up what I have.
Finally, a question about the Rib and Cable socks. The cast on is with doubled yarn. It is really quite simple...just take two strands of your yarn and cast on (I used the long tail cast on). This makes a nice stretchy cuff for socks, plus it is really simple!