When looking at potential knitting patterns, I really have to ask myself...
Would I really wear this in public?
I find myself drawn to colourwork lately and really don't know if it is fashionable.
Are these projects fun to knit....YES...will people point and laugh if you wear them out...Probably!
I don't know really. I have had to ask a couple people if certain projects are those that only a knitter could love.
So, that brings me to my latest obsession. The Canada sock by Nancy Bush.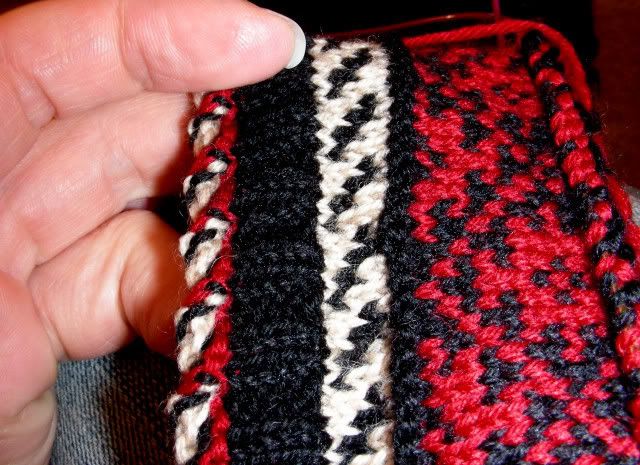 Will you just look at that cuff. Seriously. Gorgeous.
It is the most unique cuff I have knit, and I love it. I love it for these socks...and I will love it on a cute little hat or mittens.
How did I do that? Hmmmmmm.....
I've already turned the heel...poor Kilt Hose. Don't worry, I will turn your heel tonight.
By the way, I am using my latest love, elann
Devon.
I must tell you that
Grumperina
(although maybe she will be telling you) got some and really didn't fancy it. The ball is really soft, but when knit up she felt it was too scratchy for her. The stink...oh the stink when it arrives. I don't get it...but it does go away.
I still think the yarn is soft...even when knit up. It's not cashmerino soft...but I think it is soft. It is great for colourwork...hat/mittens/socks...and it is soft enough for a sweater that is next to the skin...well, for me. But it's no baby cashmerino or regia silk.