My DH signed us up for ballroom dancing lessons as a birthday gift...and last night was our first lesson! It actually was a lot of fun. We learned the waltz...one two three...
So, there was little to no knitting last night...then of course I had to rush home to catch ER and Greys Anatomy...exhausted, I only knit a couple rows.
Some have asked how much time I devote to knitting...
Well, you do understand that it is an addiction, right?
Basically I knit at night...like 7 till 11 or midnight (depending on how exciting the project is that I am working on). I watch TV and knit. Sometimes I can get an hour of knitting in during the day...some days that I feel particularly lazy, I might get a few hours in during the day.
I am not one to carry my knitting with me when out and about. With two little ones, I need to have my hands free at all times.
I always have at least two projects on the go and when I knit, I knit to complete something. Be it a section of decreases, increases, an arm, a ball...whatever. I kind of set little goals each night.
So there you have it...I have no life, besides my new Thursday evening dance class...I knit.
Boring progress...the kilt hose are still moving...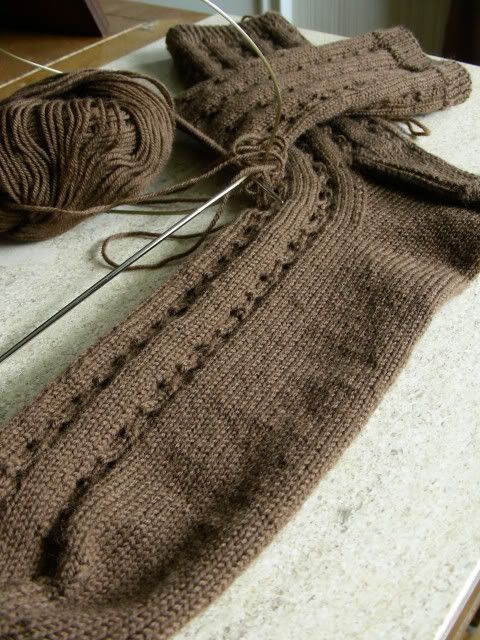 FYI this is a unisex pattern. I think there is a fine line between feminine and masculine lace patterns...but this one really would work for both.