Hello! Thank you all for the compliments on Bea, this is one knit that I am really going to enjoy...and wear!
I know, the kits are expensive...the yarn is really nice, Kim Hargreaves designs are fabulous. Real, wearable knits. So, the big question...will I get another?
Yes, probably. I am waiting for the fall preview...oh I can't wait!
Now, on to gift knits.
This one is suppose to be a Christmas knit for the new niece, due in September...
I decided on Debbie Bliss's
Cable and Moss Stitch Jacket.
I couldn't make up my mind on the size I wanted to knit...I eventually decided to make if for this winter and spring...around 3-6 months. The pattern's smallest size is 6-12, so there is a little adjusting to do, not a big deal for baby knits...there is no real shaping to work out.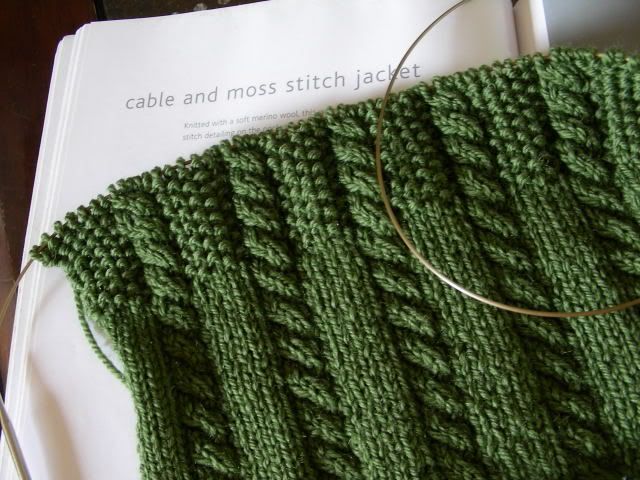 I am using a superwash wool...Tessa is the brand, I think (I'll double check later). Not loving this yarn...is feels a little crunchy...like it has acrylic in it...hopefully it will all work out in the wash!
Another knit I keep thinking about are
these fingerless mitts
...really loving these! I may knit them for a belated birthday gift...and then a pair for me!