All that knitting was worth it...another fabulous sweater.
Started:
June 19, 20006
Finished:
July 22, 2006
Pattern:
Bea
by Kim Hargreaves
Yarn:
Rowan wool cotton
, included in the kit.
Adjustments:
None. That's right...notta.
Love it...yes I love it. I actually wore it church Saturday night...moments after the last button was sewn on and it had a little steam ironing. Besides socks and scarves, this sweater was actually the first knit that I wore out in public for a period of time. I did not overheat wearing the wool cotton blend and it feels very nice next to the skin. I definitely will be using this yarn for myself again.
Here is a shot showing the front...like Kim's model wears it, but note that it won't stay like that unless you button it all the way up. Of course, there will be not buttoning all the way up here.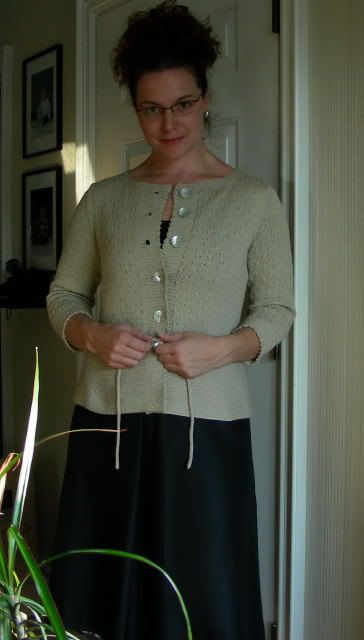 It's worth a close up...
It also looks great with jean shorts...
HERE
.
And Catherine...this one is for you...the real smile...
HERE
.