Here they are dad...all done, finally.
As you can see, they don't even come close to fitting me...but they surely will fit dad's size 14...or 15, depending on the foot!
Started:
WELL, I attempted
that grey one
, then ripped and started this pair on June 8, 2006.
Finished:
June 20, 2006
Yarn:
Knitpicks
Essential sock yarn
. 2 balls blue and 1 grey. (Hey, have you seen
the needles
they are selling? I really didn't have time to examine them, but check out those tips!)
Pattern:
It is a basic toe up pattern, based on
Wendy's
but using a
figure 8 c/o
(the toe is much nicer than the short row, if you ask me). The stripes are taken from the Hiiumaa Mate #1 pattern in
Knitting on the Road
.
I added calf increases to accommodate dad's large calf (I see I am not the only one doing that for
their
dad!)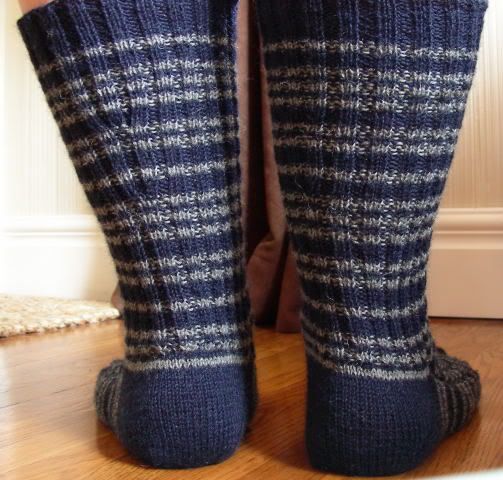 Dad hates when he is strangled by socks with elastic at the cuff...so I also cast off with a much larger needle. (I used #1 for the sock and cast off with #6) This will hopefully work out for him.
I'll let you know how the yarn wears and washes. I am sure he will be wearing them quite a bit.
Dad...these are NOT golf socks. Please.