Pick it, eat it, bake a pie...whatever.
It's done.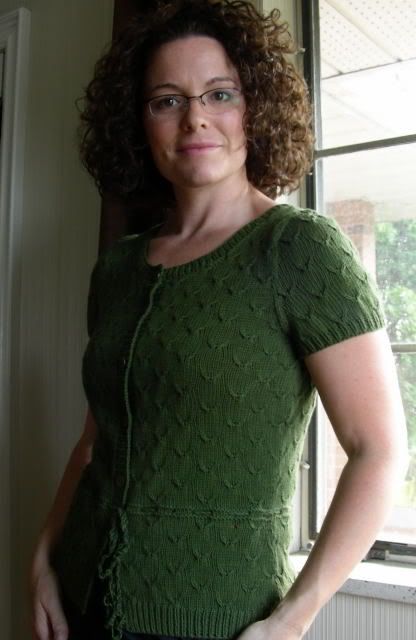 Started:
May 25, 2006
Finished:
June 16, 2006
Pattern:
Cherry
Yarn:
Online Linie 160 Season wool/cotton. 8 balls...every last scrap, including undoing my swatch and knitting the neckband with it! Check out that tie...yeah, unraveled armbands, I need to do something about that...maybe some ribbon. I just wasn't going to buy another ball of this colour yarn!
Adjustments:
The gauge of the yarn was a little off, so I need to knit the bigger size then blocked it to a 37" bust. I should have gone with the bigger size, because if I move it will gape at the buttons. Mind you, I didn't put in the snaps between them, that would help.
If I feel like dealing with this yarn again (which I really am sick of it...through that Basalt Tank episode...which I still haven't received a response to), I may do a full wet block and try for a little more stretch. If not...I think you would really like it...Mom!?
The pattern was easy to follow.
I do like the outcome...but remind me to give some room to a cardigan...no ease, and negative ease just don't really work!