I know. You've seen it. The
Spring Interweave Knits preview
.
Look out.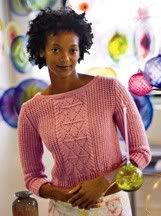 Hello gorgeous! Made from pattons classic wool! I am going to buy the yarn today!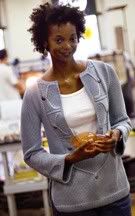 Beautiful. I am not sure about the practicality of the front. Wouldn't that flap open...but I love it!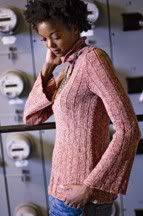 Yes, so gorgeous. I can't see the front...I am really hoping for a v neck...it looks to be so. LOVE IT!
Loving
this
as well. Made from Lion Brand! Love the cables.
Oh, and I have to make
this
. I think I have the perfect tweed for it!
This
is also cute...cotton...it may weight a ton!
Anyway, back to the knitting at hand....wouldn't this make a gorgeous sleeve to a sweater?
34 sts in 4"...it would just take forever to knit! But, it is not a sleeve, it is a sock. Here is the interesting heel flap and turned heel. Not very durable...but lovely I think.
A couple of questions were asked from my wonderful readers. The needles I always use, for practically everything I knit are addi turbos. I knit very tightly and I get too much of a grab on bamboo needles, so addi turbos are perfect for me. I do hate their blunt tip though. Especially in this pattern trying to knit into the back of the second stitch...almost impossible with these suckers.
Also, how do I like the Regia silk? So far, it is beautiful yarn. Soft, elastic, warm. How durable will it be, not sure. I am sure it will pill, but look at how wonderfully it knits up!