It's not often that a yarn really makes an impression on me...but this one has. Remember when I told you about the wool-ease that I used to make the veste everest. Well, forget all of that. I have found a far superior acrylic blend yarn. I know, it's crazy to even think an acrylic blend yarn is even on my needles again...but I needed a machine washable yarn.
A couple days ago my FIL was here and I took his measurements for a sweater he wants. He says (use your heavy Italian accent)
"You already took my measurements...you mean you haven't even started my sweater for Christmas!?"
Oh man. There is no getting around this one, it has to be done. My husband and my FIL are two peas in a pod. Not only are they grown children, but Christmas morning with them is like Christmas with a 3 yr old. I have to get this knit.
So I ran out to my LYS to get some Wool-ease. (my MIL although an avid crocheter, will never hand wash). She had no Wool-ease...but she had this: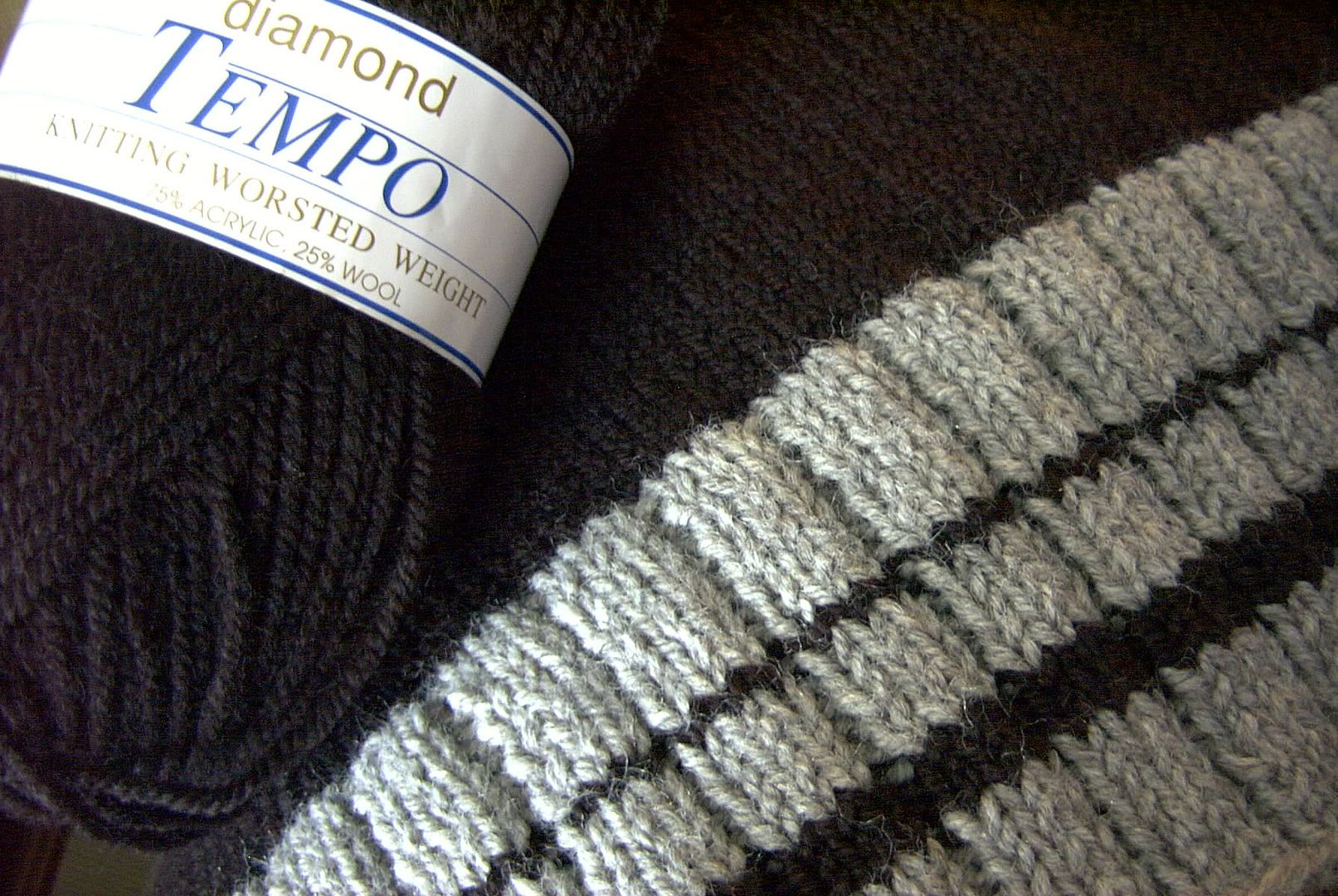 Diamond brand "Tempo"
75% acrylic and 25% wool. When I first picked it up I thought it was wool. I read the label, found that it is actually an acrylic blend that is machine washable and dryable. Unbelievable really. The colour selection that she had is just outstanding.
I swatched and threw it in the washer. Looked good...so into the dryer it went. Unbelievable. No stitch shrinkage, no crunchy acrylic. Beautiful. This yarn does not split at all...while the wool-ease does and wool-ease is crunchy. I am loving this yarn so much that I am thinking of making myself a sweater out of it. If I knit myself a sweater out of this stuff, you know it is good.
So where am I going with this sweater. Well, ribby cardi is the base. He wanted black but they didn't have enough in stock so, we are adding some grey accents. I am just about done the back...hopefully starting a front today...I can do this!
I am wondering about the sleeves. I haven't read far enough in to pattern yet, but you
knitting guru's
out there could probably direct me...I don't want to rib the sleeves and this is a raglan sweater. Do I just make the decrease on the raglan sleeves the same as the front and back pieces while making the plain st st sleeve the same size as the schematic? Yes?
Thank you for all of your comments on the christmas knits. It is encouraging. I am out there reading blogs everyday...I don't really take the time to comment. So know that I am reading...I just have to keep knitting....and knitting...and knitting. (remind me to either start earlier next year or just not to knit for everyone in my family!)
I will post the flap hat pattern for
you
this week. Thank you for your interest!