An email from my 15 year old nephew...I can't believe I have a nephew that's 15!
Dear Auntie Carolyn: I love my hat so much from last Christmas that this year I
want 2!!!My Dad would also like one.I wear my hat now to the hockey arena on
Saturdays.So cool.My Dad said he would wear one if he had one.What colors do you
have this year??? Thanks Kurtis
He even attached a photo of him wearing
it...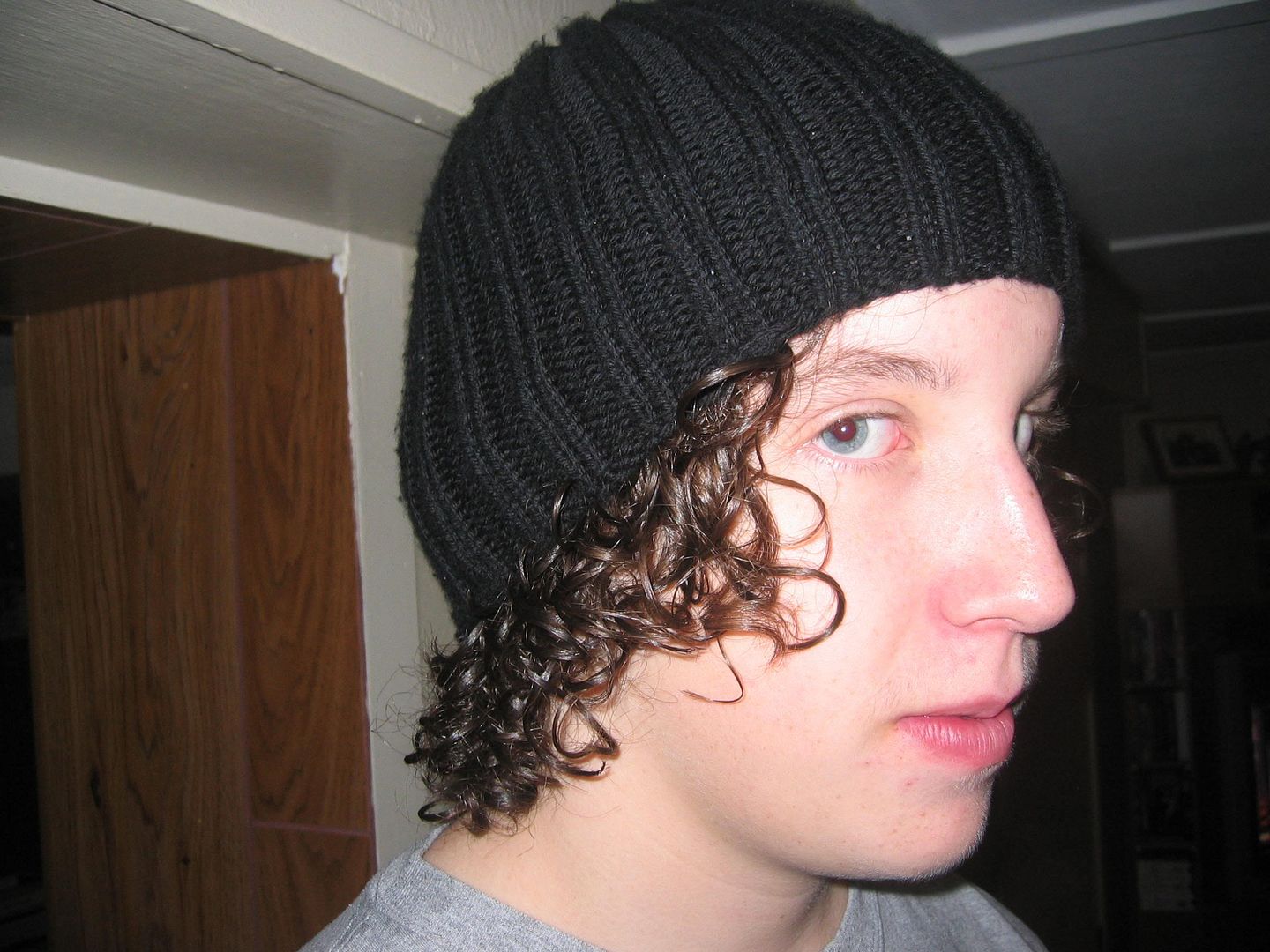 After asking for specifics...
I was thinking for me a striped black and baby-blue combo. Can you do vertical
stripes? that would be cool. ya i dont need another plain black one because my
old one is still good. I really love that hat, its the only one i wear, because
its so long and so i can get all my hair under it nicely. nick wears his often
too. he would like a combo of half and half red and black. He would prefer a red
bottom and a black top. Dad says my head is about 24" inches around. i guess
nicks would be about the same size but a few inches smaller because i have the
hair. and my mom says that your blogs are very funny and good to read. okay
thanks for the hats, and we would love new ones for this year.

Time for a little hat knit-a-long. Thank you
laura
...
Cover Your Head Knitalong.
Vertical stripes....eh? So, it's time to learn fair aisle. With my trusty Vogue Knitting at my side and the new Holiday knitting book, I started this: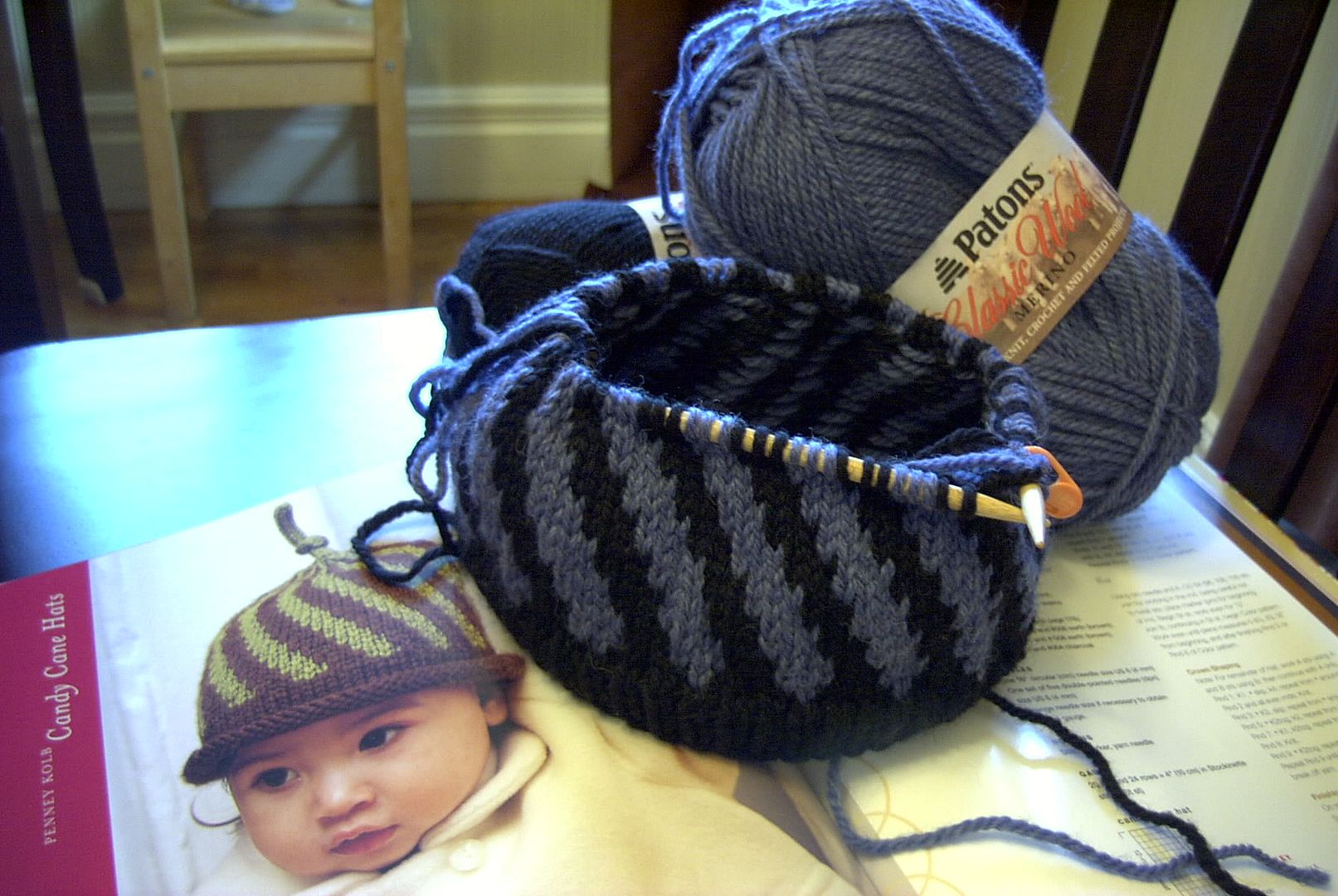 That's right people, two colour knitting...I didn't think I could do it either! The pattern is really simple and perfect for learning the basics of fair aisle knitting. Simple colour stranding with short floats. Mind you, it takes me twice as long to knit because I can only do it with one hand. I can't even imagine mastering this with two hands...but maybe one day!
This is the first time using Patons Classic Merino for me. It is quite nice.
Because I am not afraid to bare it all, here are my nice and neat floats:
A close up of the striping...not really vertical, but I think it is fun and hopefully it will be "COOL"!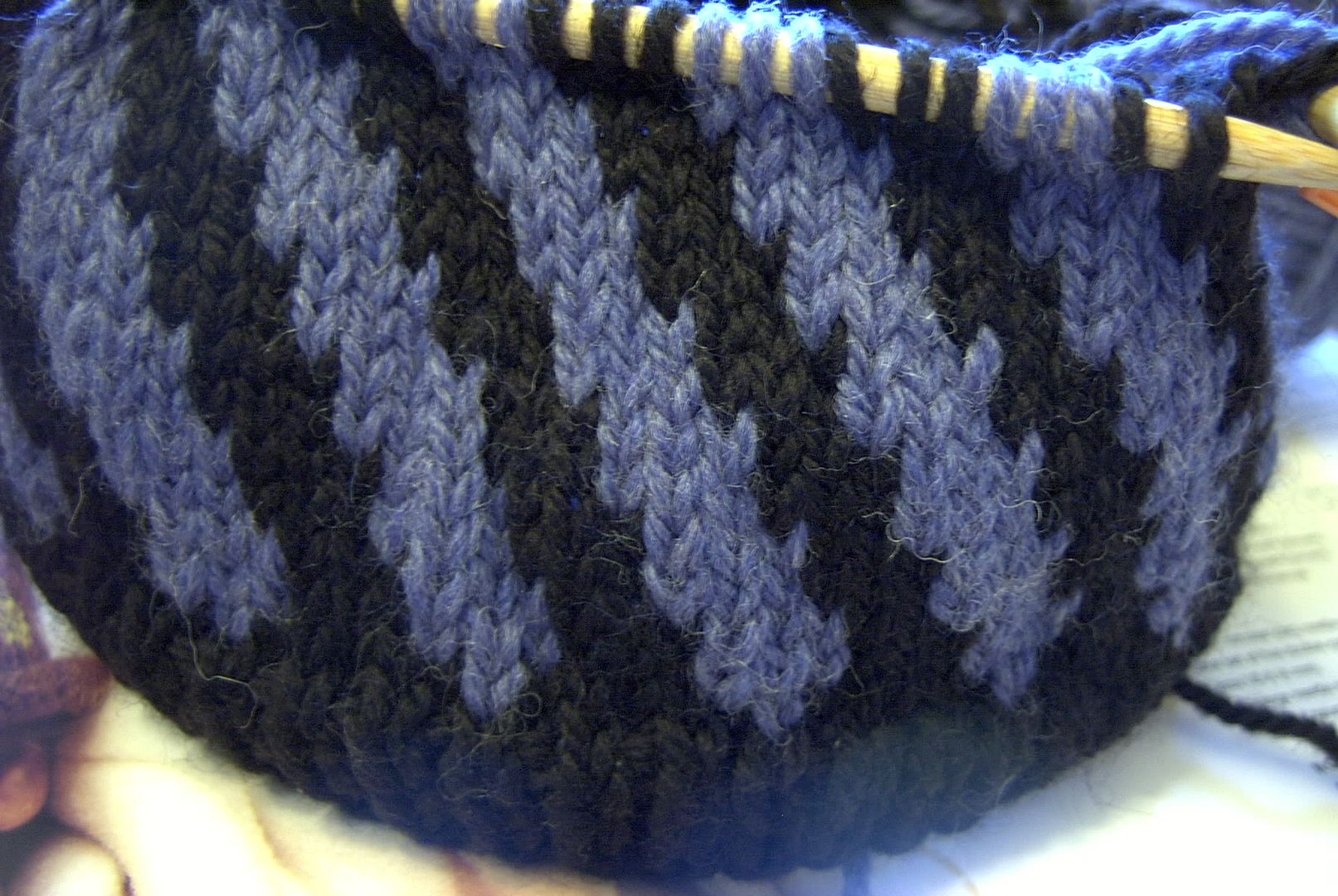 As you can see, I skipped the rolled brim and did a simple 1x1 ribbing. I am also going to skip the icord top...I just don't think it will work for him! I haven't really looked closely at the decreasing, I may need to shape it differently...it looks kind of square up top. We'll cross that bridge when we come to it...hopefully this evening.
My only doubt is the fit. I want it to stretch to fit...and hopefully it will with the floats. We will see.