Ok, I decided to create a little meme....
come on now
...give it a chance, it's about knitting! I haven't read a knitting meme on anyone's blog...and have never received one. I was hoping to inspire other knitters and maybe learn a little something from fellow knitters.
Here it is...and I hope to read it on others knitblogs;)
What is your all time favourite yarn to knit with?
I must say that I love koigu for socks and Debbie Bliss Cashmerino aran or baby cashmerino.
Your favourite needles?
Addi turbos...by far. I have ventured into bamboo and I use them occasionally but I do find that I knit much faster on addis. I wish there was a similar needle with a sharper point on it for lacework...maybe someone out there will enlighten me.
The worst thing you've ever knit?
Last year I knit this really long, thin 2x2 ribbed scarf. I hate it...really...what a waste of yarn. I may rip it in the new year and knit something a little more exciting.
Your most favourite knit pattern? (maybe you don't like wearing it...but it was the most fun to knit)
Forbes Forest Scarf from Scarfstyle. This was a really fun knit. I improved many a knitting skills in this project. I knit it last year for my hubby, we'll see how much he wears it this winter!
Most valuable knitting technique?
I have to say, because I have made this the year of the cable...knitting without a cable needle. You can learn of it here and here.
Best knit book or magazine?
Although I just recently bought it...Vogue Knitting, the ultimate knitting book and my favourite knitting mag is Interweave Knits.
Your favourite knit-a-long?
Scarfstyle. Absolutely. It is active all year long, and the knits are just so wonderful and inspiring.
Your favourite knitblogs?
There are so many, but if you haven't read: grumperina (she is just a brilliant knitter and knit designer!), purly whites (nice and simple-non distracting blog about knitting), Knit and Tonic (she is just hilarious and has some great knits), and sweetgeorgia (another beautiful blog and fabulous knits)....I have so many favourites...those are just a few to get you started.
Your favourite knitwear designer?
Elizabeth Zimmerman...a fabulous knitter. I must also say Debbie Bliss, who's designs inspired me to really start knitting.
The knit item you wear the most? (how about a picture of it!)
Ene's Scarf...my absolute favourite.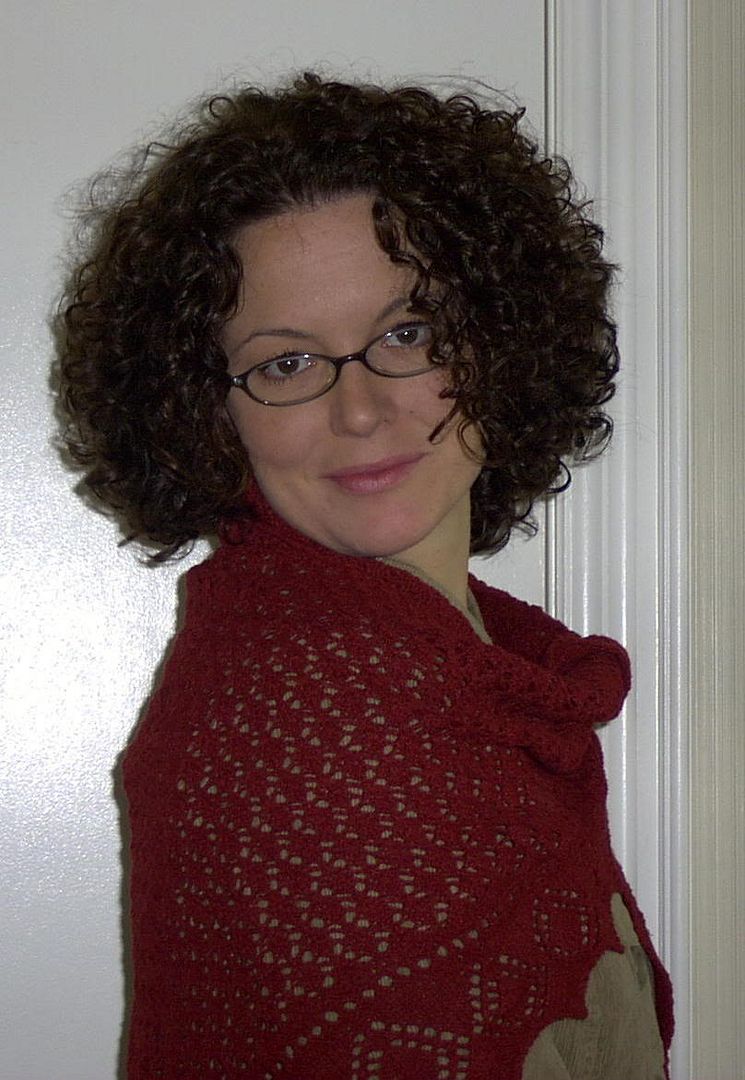 Now...who to pass it on to? Purly Whites, Grumperina, All Things Heather, Affiknitty and Serendipity. Give it up ladies!
p.s. feel free to change the canadian spelling to american....favorite!