I've been working a little on each project that is on the needles. I finished the first lace chart of Ene's with no problems. I missed a YO at one point but caught it on the way back. Other than that, these charts are a breeze. Have no fear of this pattern. There are a lot of sts on the needles, so it takes a while to do a few rows!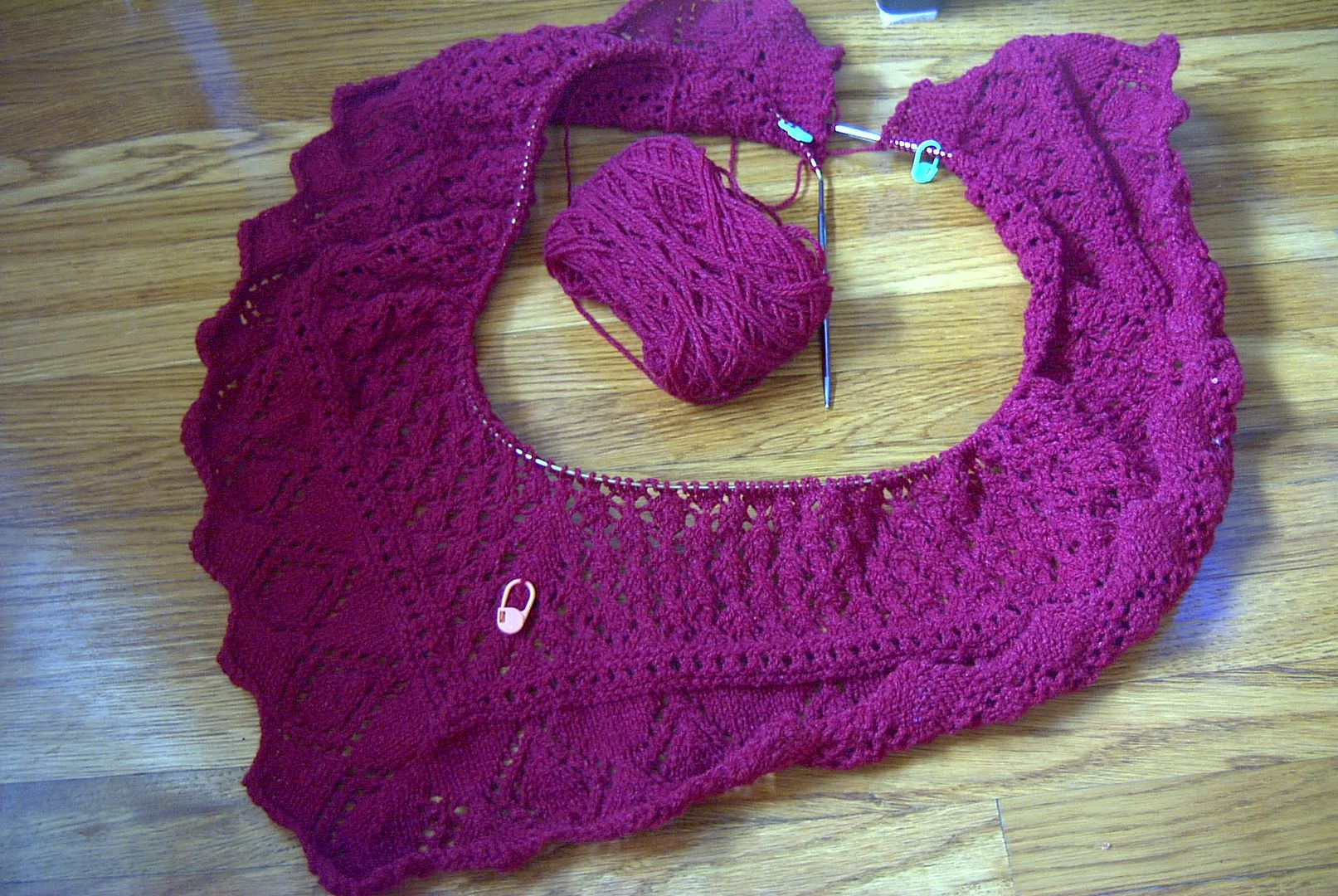 It does look small...most likely it will be a little smaller than the pattern size. I knit tight and I just didn't like it on #7 needles. I know lace looks smaller before blocking...we will see.
I really like the whole idea of the
stitch ya neck
out KAL. I wish I would have joined, but really I have no extra knitting time right now. I have started to think about my Christmas knitting...the list is long.
Major SCP (secret Christmas project)...remember...here. I still have to go out and purchase the DK weight yarn and get it going.
Major SCP #2...not quite sure what to do yet, most likely a cardigan...washable for sure.
A sweater for Lucca...Matteo's is complete.
DH has seen this design and liked it! That will be major project #3.
Last year I made hats or socks for the 11 nieces and nephews...what will I do this year? I am think about this for the girls...but no ideas for the boys yet.
We also pick names for gift amongst siblings. I have to do a little something for that person.
I was thinking of felting bags for my SIL's. That's two more things to knit there.
My FIL would also like a sweater.
My MIL got these already, as you may remember...but I could do a scarf or something for her.
Socks....there will be lots of socks.
That's all I can think of now...of course there is the sweater for myself I have on the needles...the scarf, the socks...and ribby cardi is waiting...and DH's socks....and...and...and...mybe I will join the next SYNO KAL!