So I saw this tag going around in the knitting blog world, about books you own...oh man...thank you
Grumperina
! So trying not to reveal to you that I actually don't sit down and read novels...I am busy knitting...here it is...
1)Total number of books in your house:
Ok, are we including the kids books? Because I would be pushing 100 with their books! I am a "how to" book reader...I do have some books in a bin downstairs from University...much of which are Art History books. I own Cookbooks galore and any and all of Martha Stewarts books. As for novels...I would really have to search for these. I am a magazine junkie...seriously. I get Martha Stewarts "Living", "Kids" and "Everyday Foods", "Weight Watchers" (a new addition), "Canadian House and Home", "Style At Home" and just ordered "Interweave Knits"...and then there are the ones I just buy as I see them. I try to edit my mags every now and then...even though it is hard to part with Martha...I did have to get rid of a couple years worth only because of lack of space!
These are some of the decorator mags I keep by the bed.
2)The last book you bought was:
A couple Shel Silversteins for the boys..."The Giving Tree" and "Where the Sidewalk Ends"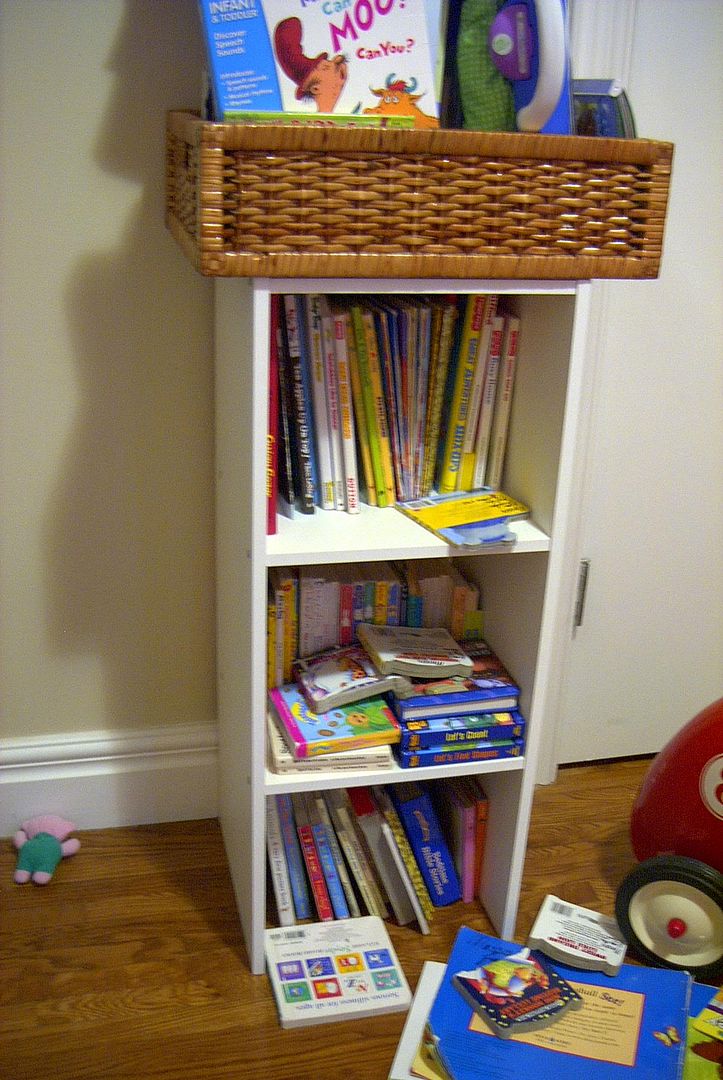 Lucca really wanted me to take a picture of his books!
3)What was the last book you read?
Of course it was "At Knits End" by Stephanie Pearl-McPhee aka the
Yarn Harlot
. LOVE IT!
4)Write down 5 (or 6) books you often read or that mean a lot to you.
1. "At Knits End"...I keep it by my bed, and re-read it before bed...or to whomever calls me on the phone...to anyone who has ever meantioned that they knit...the lady at the grocery store...the mailman...
2."What to Expect the Toddler Years" by Eisenberg, Murkoff, and Hathaway. I really like when things come with manuals...like you could actually expect anything that happens...
3."The New All Purpose Joy of Cooking" by Irma S. Rombauer, Marion Rombauer Becker and Ethan Becker. A must for every kitchen.
4. "Baker, Baker, Cookie Maker!" by Linda Hayword no this isn't a cookbook...its about cookie monster...I am forced to read about 500 times a day!
5. "ScarfStyle" by Pam Allen. An excellent knitting book to improve all techniques. The scarves are beautiful and make wonderful gifts...if you can part with them.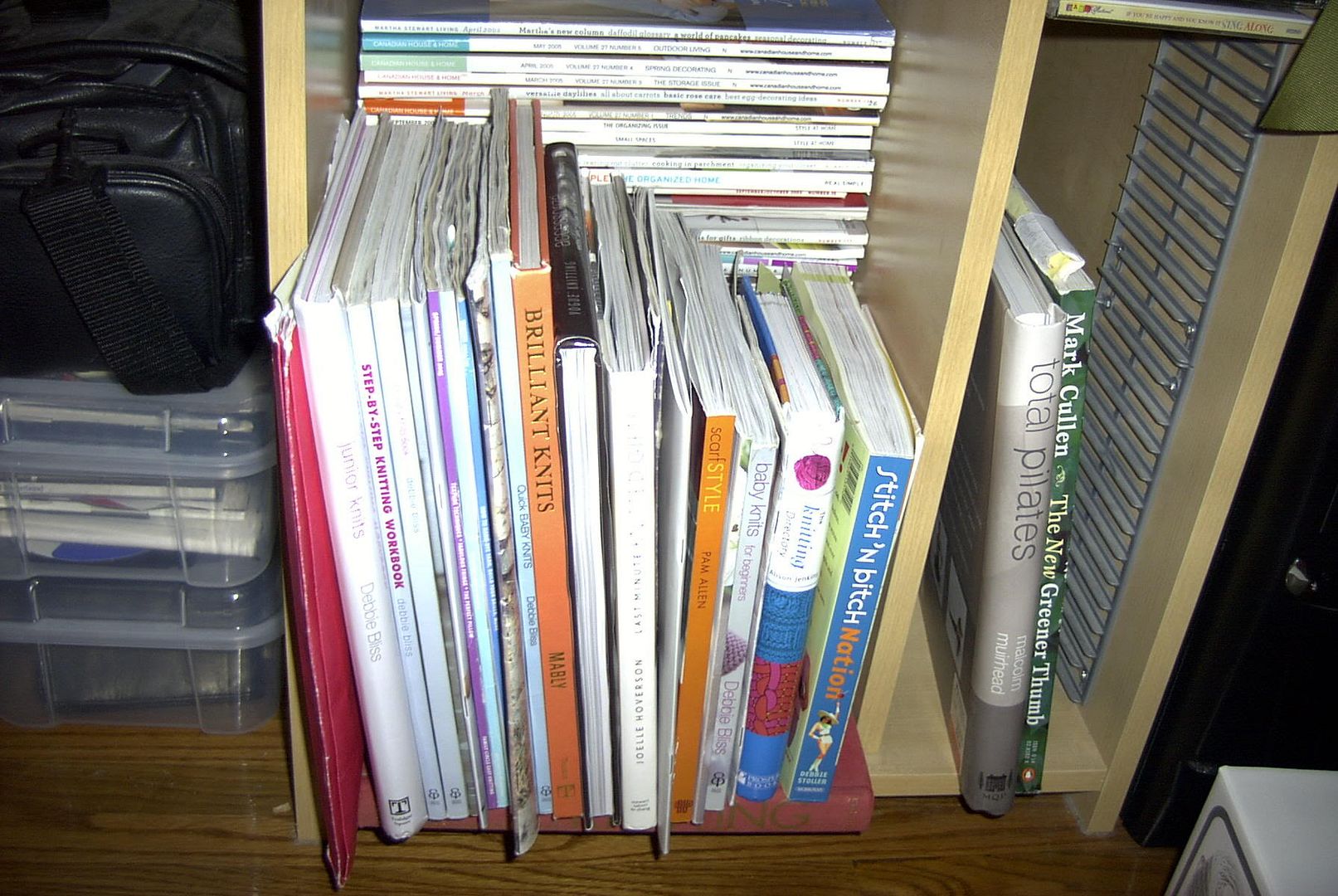 Of course, knitting books, minus the ones in use...oh yeah, the pilates book that maybe I have opened! Also a gardening book...that I need to read some more of. More mags behind...
5)Who are you going to pass this onto and why?
Hmmmmmm...who wants it? Ok,
Goodkarmago
because it seems she has many interesting knitting books, and has reviewed many knitting books...let's see what are her favorites! Also to
Dirty Purls
, just for pure curiosity and you must see her blog about mixing knitting with alcohol! Hee hee.
On the knitting front...Soleil should be complete tonight I hope. I did venture in the sock world...and came back really quickly! I will post on that later.
Check out Clara's
review
at Knitters Review on Knit Picks "Shine"...I can say I agree...yes...yes...all good!
Ok, I just had an idea. I've seen lots of tags going around...are there any knit ones. Like lets say a knitters challenge...with actual knitting involved. Something someone could do in one sitting of knitting? The Knitters Cup? Hmmmmmm. Then you have to post a picture of the finished object...using something from your stash? Anyone?