Olive is finally finished.
I am not touching it again...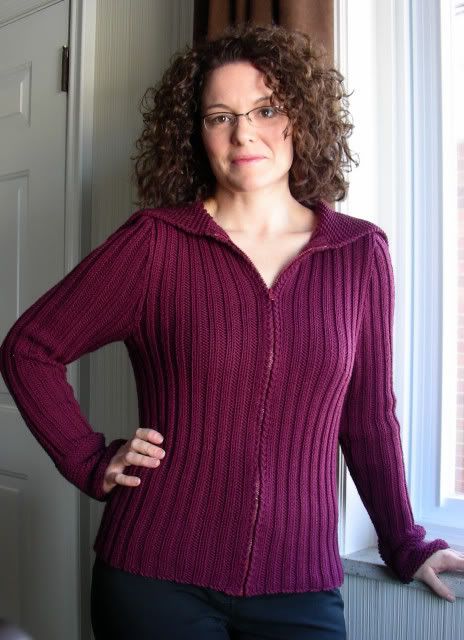 Started:
Oh around December 28th 2006
Finished:
Let's say a January 28th, 2007
Pattern:
Olive from
Simple Knits.
Yarn:
Laines du nord dolli maxi
Adjustments:
I lengthened the body a little...and that's all I can remember.
Do I love it...well love is such a strong word...I like it...enough to wear it. It's fine. The lumps are pretty much gone...
see here
...but I think it is the zipper I don't like. The big plastic teeth...no they aren't working for me. I think they are the main cause of the wavy zipper. I really don't want to order a 3$ zipper on line then pay shipping and duty on it.
I just don't love the sweater enough.
I don't love the sweater enough for a 3$ zipper plus shipping and duty...that's sad.
Maybe it is the chunky yarn? I know, I know, I have already said I don't like sweaters knit in a chunky yarn. Last time, really. I have learned my lesson.
More on putting in the zipper this week...