I can't stand this working-not-knitting-thing...how do you all do it?
Yesterday...not a stitch. Not a single one. This coming from a person who would knit a sweater in a week...with a pair of socks...and a scarf...
OK
, not really. But now...oh man.
I know I will eventually be able to get into a groove. Mind you, I will have to be one of those knitters who carries it with them at all times.
I was hoping to cast on a socks for protability...well...I had a sock going...HAD is the key word here.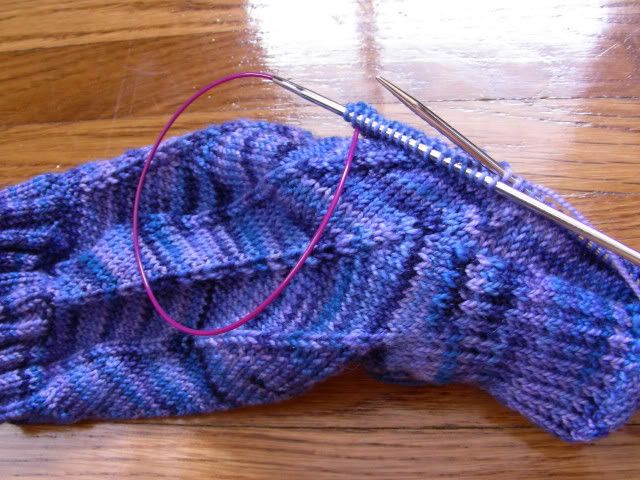 I screwed up the decreasing and needed to rip back a couple rows...
Then, my
inner
knitter was calling me since the leg of the sock began...
"TOO LOOSE. Your
gauge
is off. Listen to me woman!"
So as I ripped those couple rows...I just kept ripping...I new it was inevitable.
So jaywalker no more. I don't have time for this ripping stuff...my knitting time is really precious now.
My
gauge
has changed...it is really weird. You would think I would be more stressed and knit tighter..but no...it is looser. I keep a little booklet of
gauge
in yarns I use frequently, so I don't have to swatch for every sock...that's not working anymore.
So I started a mitten...yes...that's it...beautiful komi
colour work
...
Gauge
is off...damn it.