A new year, a new job, a new way of life...finally, a new post.
I can finally sit down for a moment to write...while tending to the laundry. Who ever thought knitting and posting about it was all that time consuming;)
I do have some projects on the go...some to finish, some that are new...some inspired by you. I have been reading...boy those bloglines can really pile up if you don't get to them everyday!
Today I am relaxing and of course knitting. I also plan to wind that skein of silk Sundara sent...because there are serious plans for that....thanks to
grumperina
and lacework with bobbles!
Right now I am working on a ribbed sweater...something I have been meaning to knit, simple and from the stash. The photos are pretty boring at this point...so I will leave you all with this...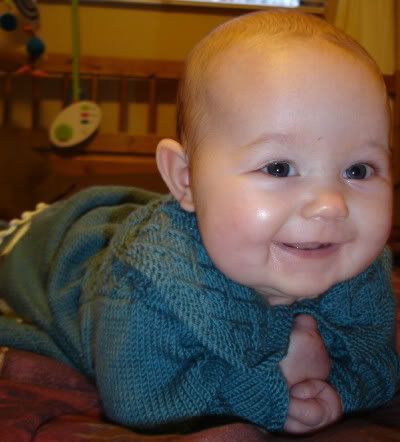 That's Georgia in her dress...which obviously by the look on her face, she loves.
Happy New Year everyone!
I'll be trying to post regularly again...and answer some of those questions you have been asking!