So I am working now...I know you have noticed. From blogging daily to once a week. My knitting is suffering. I don't whip through the projects anymore...what a pain when I need to rip something back...and some projects sit for a little while.
Well, my lace project was sitting on my bedside table for a week or so...and look...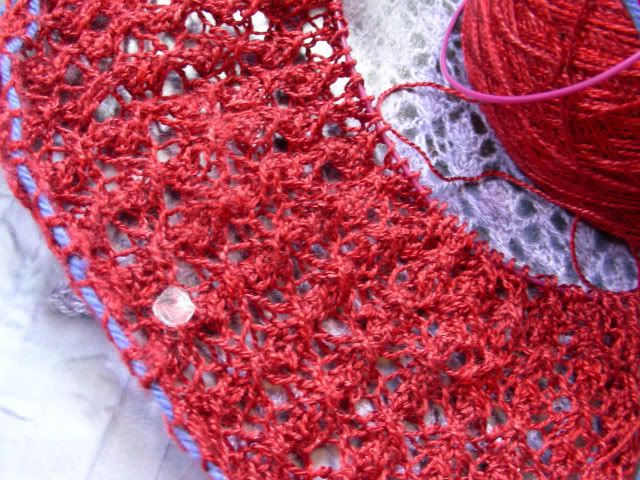 Do you see that...that spider cocoon?! Yeah, that is a first!
AND I picked it up to knit and started the wrong row of the chart...then realized that the double decrease I was doing was wrong! Instead of the slip 2 stitches, knit 1 pull the slipped stitches over, I was slipping one, k2tog then pulling the 1 over. ARGGGHH!
I am not ripping back for that...it looks fine...right?
Olive has been hanging as suggested for a couple days. I picked up a 22" and a 24" zipper today. The colour is a little off, but I am hoping to hide it. I hate trying to match up zippers to yarn colours. I do know that there is a site on line that will match them for you...but I just don't have the patience to wait.
Hopefully I will finally give you a meaningful post this week with some zipper tips. I love the suggestions you all gave and will include them in that post....now to find that spider...