I have to say, that this hat is one of my favourites.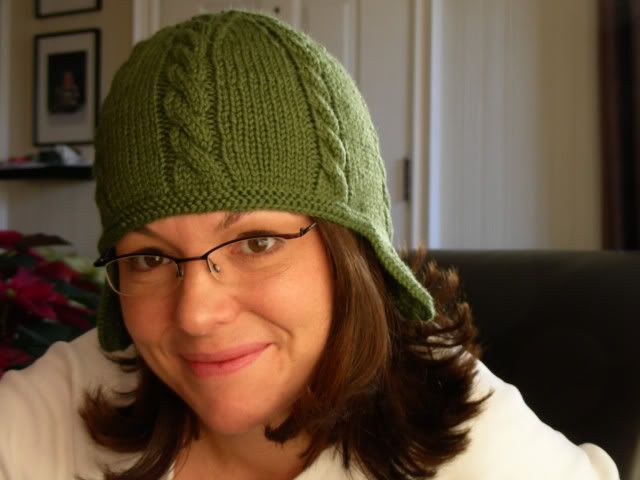 Started:
December 7, 2006
Finished:
December 9, 206
Yarn:
2 balls of On Linie
Tessa
in green.
Pattern:
Cable hat with ear flaps from Zoe Mellor
Adorable Knits
.
Adjustments:
I used a thicker guage and made the med size to get the adult version. I did try to trim in a beige but I thought that was too feminie looking...so solid green it is.
Love this hat. What a great unisex pattern. I am definitely making myself one of these.
So that leaves me with one hat to complete. I have not finialized the details...we have switched from pokemon to other thoughts...I better get on it. I plan to visit my family in the GTA this coming weekend...that means all hats have to be done for gifting.
I still have time for the sweater...but not much longer. I just have to get on knitting those sleeves, they are moving slowly.
AND tomorrow I am back at work...oh man...I must find time to knit!
One hat, two sleeves, and a partridge in a pear tree.