Ok, we covered the "yarn fiasco". Now, let's get to the new books and yarn.
I picked up Debbie's new book
Out of Town
(the link shows you the inner photos and click on information to see the other shot of the Circular Cardigan)
There are 12 designs in this book made of cashmerino aran, astrakhan and chunky. As well as Alpaca silk dk , aran and Soho.
I tried on many of the knits from this book and loved them. The Circular Cardigan is one of my favourites...the back is gorgeous. Unfortunately I am allergic to alpaca...so I must come up with a sub for it.
I have made mits, hats, scarves and baby garments out of cashmerino aran...but have never made a sweater. I tried on the Shaped Edge Sweater made of cashmerino aran and you can't even imagine how it feels. Everyone must have a sweater made of this yarn. SERIOUSLY this stuff feels divine next to the skin. I will make this sweater in the same teal colour...loved it. The classic cabled sweater is another design in this book that I love. They are all nice, but those are the three that will make my knit list.
The best part of Debbie's new books (I know she has done this in recent ones as well) SCHEMATICS!
Dongel Tweed
is also one of the new books and yarns. Gorgeous knits in here as well. I love the simple designs to make the tweed. I should have got this book as well...it will go on my christmas list for sure.
I am thinking of starting a Debbie Bliss KAL...any joiners?
My current project, the sheep dress is moving along well.
I ditched the top down sleeve.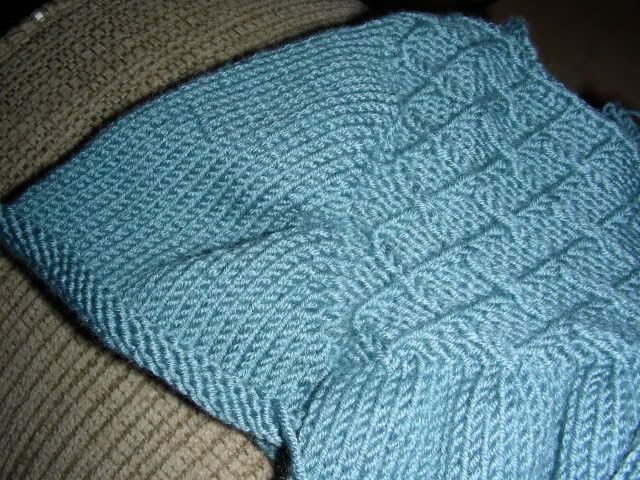 It works out wonderfully but just doesn't suit this dress. I wasn't sure the actual length of the sleeve, where to start the decrease...and it looked a little big. Maybe the formula doesn't work the same for baby knits.
Anyway, it is a
great technique
, one I will use in the future on adult sized garments.
I finished one sleeve and am working on the other...there will be a finished sheep dress soon!