So, I was hoping to give you that heel shot, but you have to wait until I turn the second heel. My feet are a little longer than the recipients and I don't want to stretch them all out...just be patient!
There are a couple interesting parts to this heel...at least to me. It is unfortunate that they don't show the heel at all in the photos of the pattern.
The pattern extends down the heel flap, not the typical heel flap for me. Also when you start the short rows, there are some interesting decreases.
My
inner knitter
spoke to me when I was knitting it, but as usual I ignored it. You really should k2tog then ssk on the other side of the center stitch...the next pair for sure.
Here is the progress...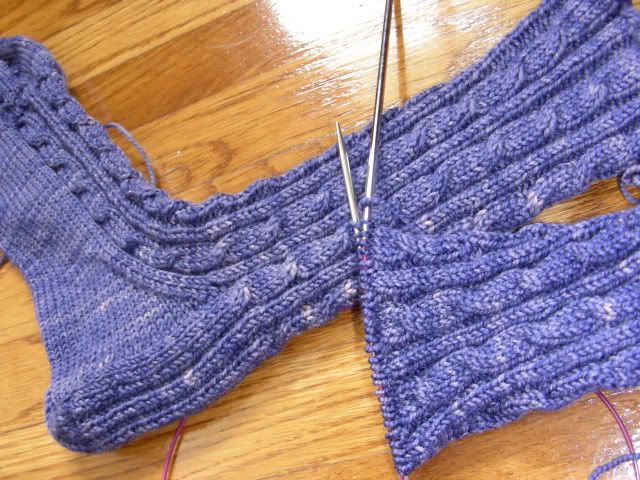 Of course, I am reversing the cable for the other foot...I just think it will look nicer.
I also shortened up the cuff just because of my fear with koigu. I never think I will have enough to make the full pair...usually the patterns I choose need 3 skeins and I only have two. I did have some length left over so instead of the one inch cuff, I probably could have made it 2 inches, but it definitely would be cutting it close to make the 3 inch cuff as written.
Yes, I know, toe up would have solved the whole problem, but I really like the toe of this sock.
Let it be know that this is a great sock pattern. It is simple,quick to knit and definitely unisex.
I've been working so much with the Devon lately that working with koigu seems to move like a chunky yarn! I think it took two nights to knit the first sock, come on!