First, it doesn't get more exciting than this...that's for sure...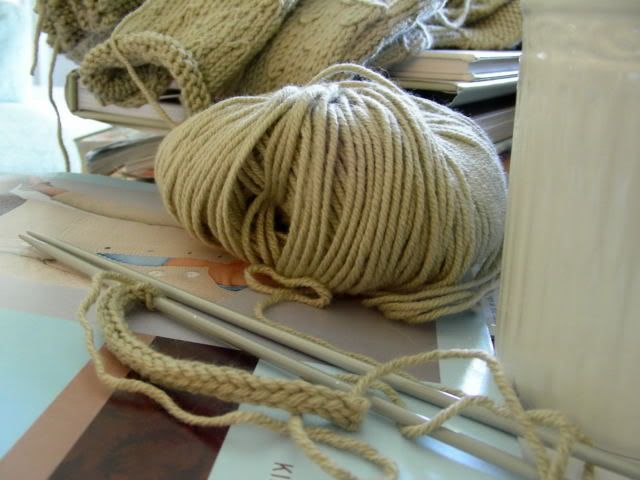 The icord belt.
Yes, that does mean that I have completed the sleeves...hurray! Now the very exciting icord belt...oh boy.
I am that much closer...a little finishing to do and I should have a FO in no time.
Let me tell you about my shopping day yesterday...
I went to find a strapless bra for a dress my SIL lent me to wear to an upcoming wedding. You can see where this is going...so stop reading if you don't want to hear about it!
I'll check the Bay...there is no reason to go to the specialty bra store and spend over 100$ for something I will wear once or twice. Ha.
I am approached by a sales person (sales child, I should say...obviously trying to do something with her summer vacation.) while looking at the strapless bras.
salesperson:
Can I help you find a size?
me:
S
ure, does this come in a 32".
salesperson:
Not this one, no. What cup size are you looking for?
me:
Well, I've been measured at a 32 DD but I think I am a D now.
salesperson:
*starring at my chest* REALLY?! You certainly don't look like a D.OK, shut your mouth little girl...obviously you know nothing about bras...nothing. You see with such a small circumference around, the cup size letter is larger. So a 32 D cup is equal to a 34 C cup and a 36 B cup...please your ignorance in bra sizing is just unbelievable, considering you are working in the bra section.
I've had two children and breatfeed both...on top of that I have lost weight...so once you get all that up in the cup...they are quite large!
Seriously, I didn't say it but stood there starring right back at her having the rest of the conversation in my head. I took the 34 C and went off to the dressing room. I'll show her.
For all of you wearing the wrong bra size, please
look at this
. It is really important to be sized correctly. Most women are wearing the wrong size...are you one of them?