Ok, I finally got my copy of
Knitting Nature
.
I love it. Seriously. I am bored with the typical knits...the "
you could have just bought that at the store instead of knitting it
" sweaters. I want to knit something interesting.
For the love of knitting!

I don't know, some of the patterns are way out there. WAY. But oh what fun they would be to knit. Let's face it, I rarely wear the things I knit...for various reasons...so why not atleast have fun and be interested while knitting it.
There are few patterns in the book with
real woman
shaping involved. The models are "flat" and skinny. Great for modeling I guess, but what looks good on them, will certainly look not so good on me. So there will be a little adjusting to do...and maybe knitting in smaller sizes (most of the patterns look oversized to me)...hopefully nothing I really need to wrap my brain around.
Here are a few that caught my eye...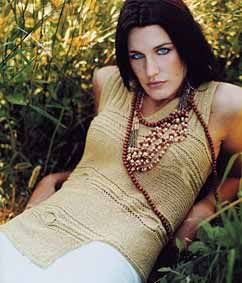 Love the cardigan. It is a chunky knit...so I don't know. I haven't had luck with chunky knits.
The tank...oh yes. Love it. The pattern calls for Rowan's wool cotton I believe, wool cotton may be really nice. The point of this book was to use up yarn from my stash...but I just don't think that will be happening.
The roundabout leaf tank I love as well. It looks great on her lying down...but how will that look on me?!
I found the
KAL
that you all have been hiding. I will commit to a pattern before I join!
Oh the new colour...I am just not sure about. I am playing around with the blog template...it's not over.