I am finally getting somewhere with this tank. I have 3 full hexagons and a partial one for the underarm.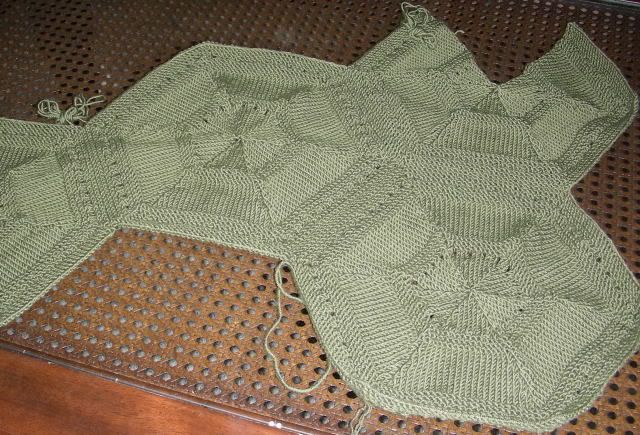 I seem to be knitting this tank taking two steps forward and three steps back. Seriously, I just don't know what my problem is. I keep making stupid mistakes...when I have 200 stitches and then have to rip back a couple rows.
If you are knitting this tank, make sure you count inbetween your markers after the eyelet rows. You will know what I am talking about because it doesn't work out evenly...atleast in this size....and you sometimes have to k2tog when the stitches are on either side of a marker. You will see.
Also...the mistake in the pattern is this
Inside Section.
Rows 9, 11, 13, 15 and 17 PURL.

I know...another stupid mistake that I should have caught right away.
I am hoping to get the other partial hexagon done tonight, and maybe start on another full one...a couple more days and I will be finished!
The size is working out for a 36". I was tempted to make the XS but it is 33" I think...a little too small. I tightened up my gauge...yet it still measures 36"!?! Whatever.