Both my sister (CK) and my mother told me not to tile the floor white.
"It really shows the dirt"
Ok, lets talk about this for a moment.
Do you not want to see the dirt? Or is it that you don't want a dirty floor. You know that dark tile also gets dirty. I just don't get it...dirt is dirt...I don't want to hide it on a dark floor. Not knowing how dirty your floor is...what creatures are lurking there...do you gauge it on how dirty your socks get?
What about white socks. Why do we wear white socks?
Just think about it.
So...all of you poking fun at my cream fingerless mittens...I ask you...do you hide your dirt?
I know, I know...not very practical. But if they get dirty, I will wash them...just as I would a dark pair.
I won't be changing diapers in them...or washing my dark tiled floor (I didn't tile it white) in them...or wear them while making tomato sauce.
They are for the sole purpose of looking great with my brown coat.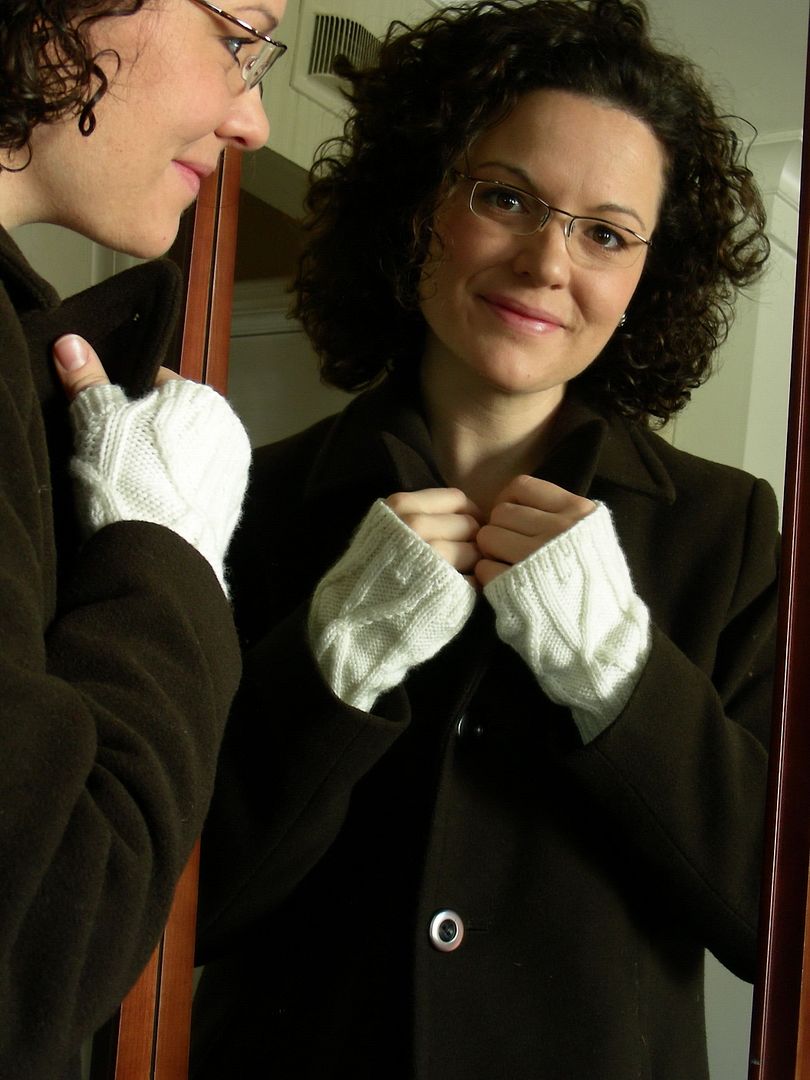 Started:
March 1, 2006
Finished:
March 5, 2006
Pattern:
Pom-Pom Fingerless Mitts from IK spring 2006
Yarn:
Truffles. Check your yardage on this yarn. My ball said 20g 60m. oz 70yds 66...the pattern says the yarn has 75m/81yds 25g...I wouldn't have had enough for the pom pom's if I wanted to make them. The yarn is new...so maybe they decided to up the yardage in them.
Adjustments:
No pom poms. I also cast off with a needle two sizes down from the one I was using for the glove. It was just too loose at the top cuff with the bigger needle.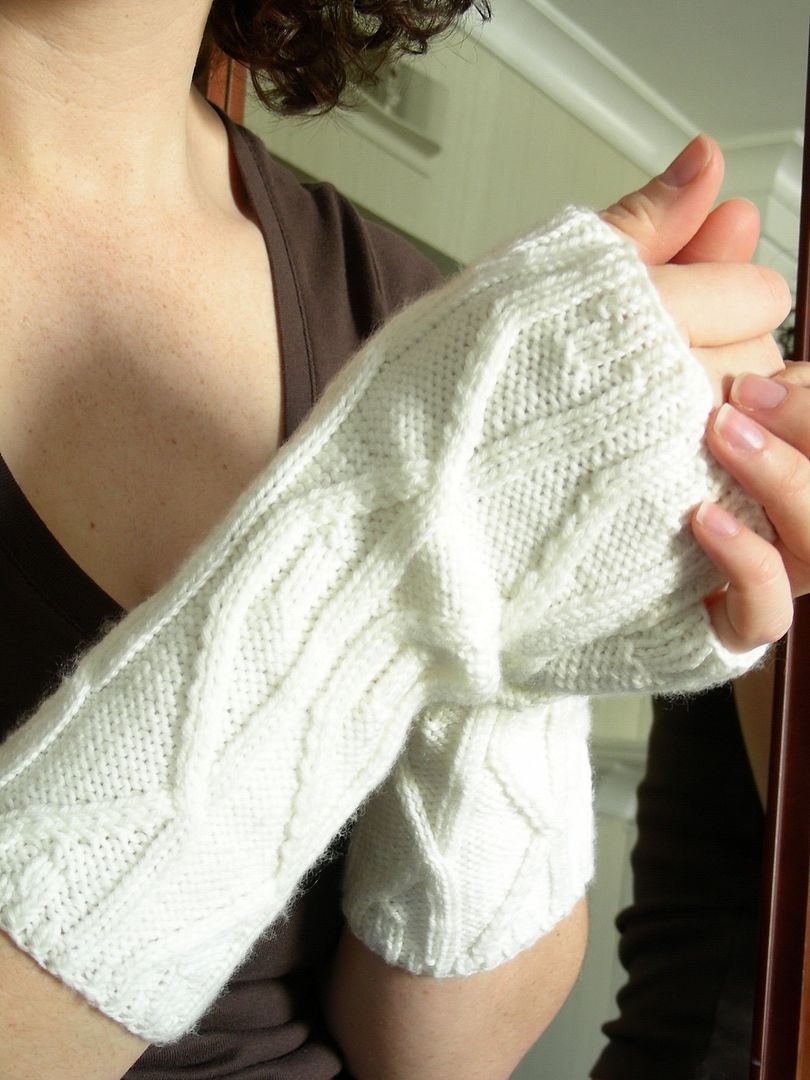 Fingerless Mittens. I never thought I would knit a pair. Why would I want mittens without fingers...the fingers are the parts that get cold quickly! Well, Maria and I chatted about this...how many times do we take off our gloves to do up the car seat buckles...dig in our purse...try to hang christmas lights (or take them down because you feel that your husband is never going to do it)...I don't know...I am constantly pulling my gloves off for something. Now, I don't have to!
Also, an added bonus...knitting outdoors in my fingerless mittens!
In other knitting...have I said that fair isle is addicting?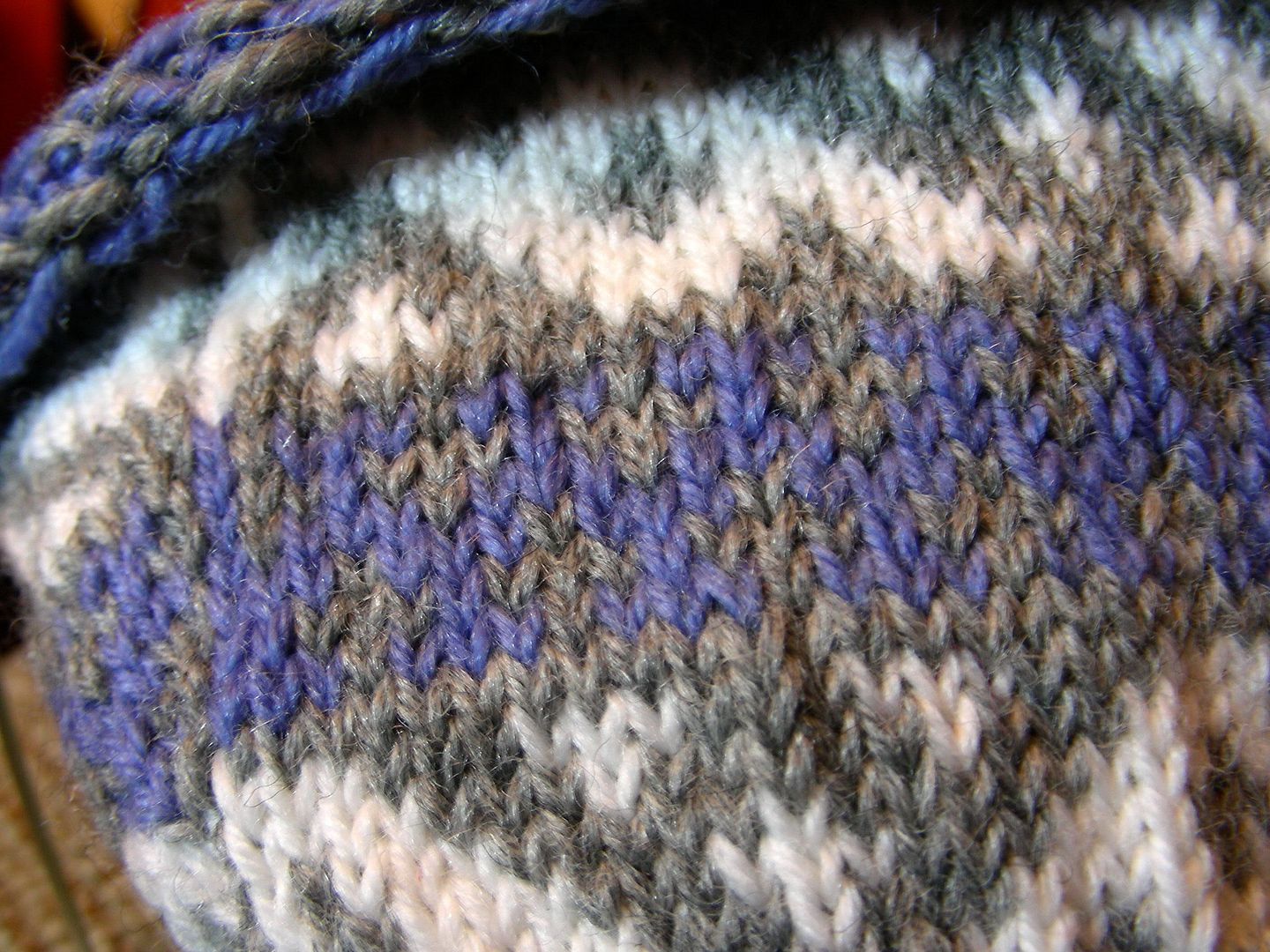 Another Komi Mitten started!