I'm having a block party. Don't be fooled, some of these are just being washed, not newly knit!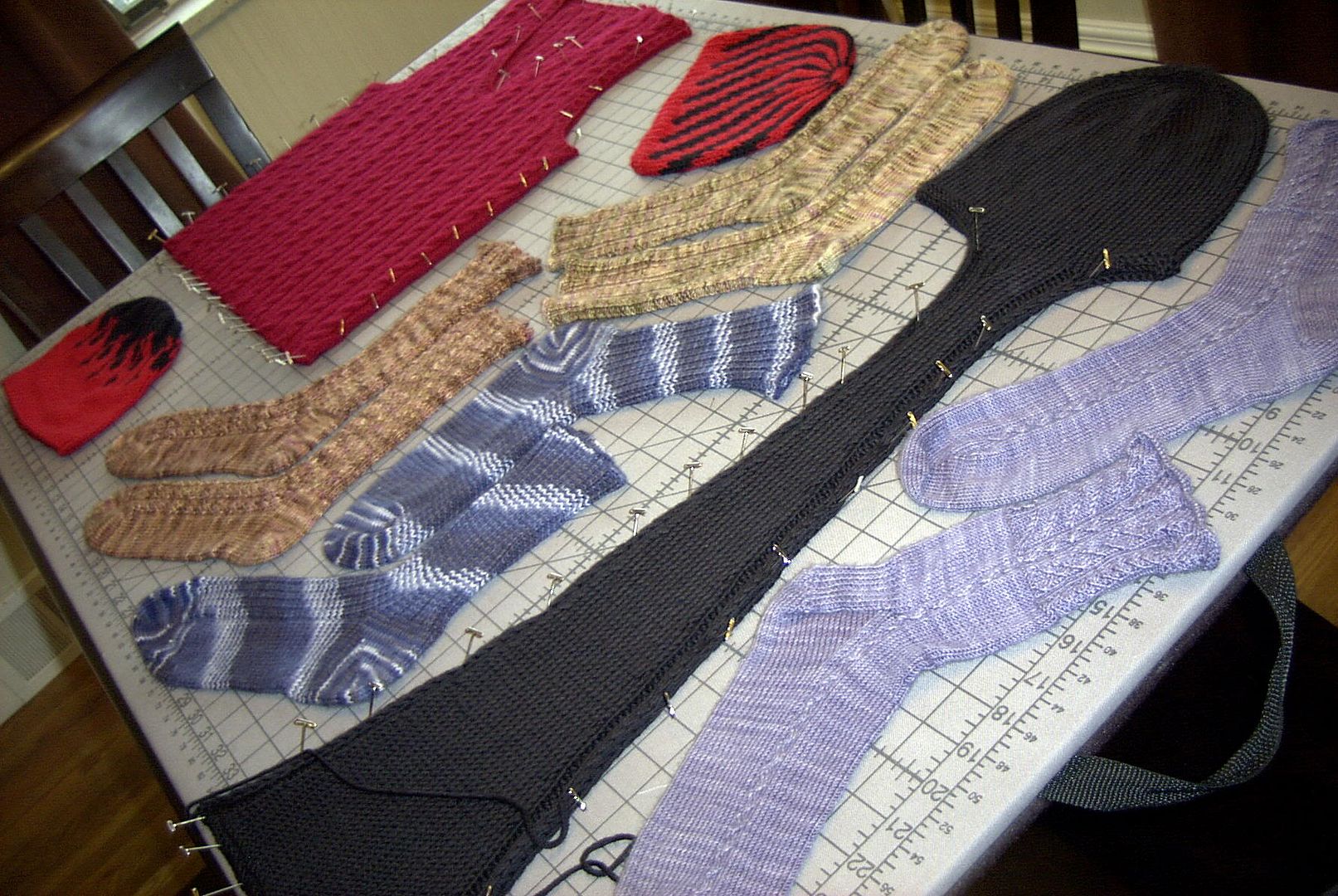 I did reblock the veste everest to help the arm and neck bands. Some socks that needed washing (I must say I love wearing handknit socks...even my hubby is wearing his!) and some hats that were completed.
The Tom Hat is done! It was actually a quick knit...I just kept putting it aside. More on it tomorrow when I can model it!
So let us recap. It is December 1st. I am crazy enough to think I will knit something for everyone this Christmas. I still have 4 hats to knit for nephews, I would like to knit the "rescue pack" for Lucca, a sweater for my FIL, a sweater for my hubby, a scarf for my MIL and something for the sibling exchange. YEAH...24 knitting days left to do that in....IT'S NOT GONNA HAPPEN!
So, the first to get axed...hubby's sweater. He'll understand, and he is so picky that I haven't nailed down a design or picked a yarn yet. I'll do it in the new year.
My FIL's sweater. Well, it may happen. At the very least, I will start it and wrap up what I get done, even if it is still on the needles!
The hats...oh yes, I will get them done, and the orders are hilarious. Next up a blue hat with flames and the numbers 55 on it! Don't ask.
The scarf, I'll knit over a weekend...no problem.
The reality is...I need to knit something for myself now. I am thinking a shrug. It's quick and hopefully satisfying. I have some handpaintedyarn in merino weight (some of you know it as Malabrigo) waiting to be knit. Hmmmmm.....