Since there was some requests to see what I was working on, I've decided to add a feature to my weekend blogging....
Weekend Reno's
. I know many of you don't blog on the weekends, so you can easily skip reading my boring reno work if you choose!
We bought this little house (about 1100 sq feet) three years ago and started renovations right away. I am a DIY gal. My wonderful father had one of us by his side as he renovated, painted, tiled, whatever the project was...so we were lucky enough to get some experience in these areas. With a little practice, you just get better and better. I will show you upstairs before and after once I get through the basement projects.
My husband is a carpenter, who used to frame and build houses with his father many years ago. He really thinks that he can do it all...but he is a rough work guy with carpenter skills for finishing techniques. My claim to fame is my painting ability...but I also try to get practice with tile work.
That brings us to the basement. He framed, we hung the drywall. We left the plumbing, the electrical and the taping to the professionals. If you don't know how to tape drywall...stay away, higher a professional...it is an art, really.
I can't find a before picture of the basement. It was just a big open room with painted cement block walls and sheet vinyl flooring. There was a huge cement laundry tub at the bottom of the stairs with a ringer washer (remember those!) and a dryer. Under the stairs was a storage room. That is it.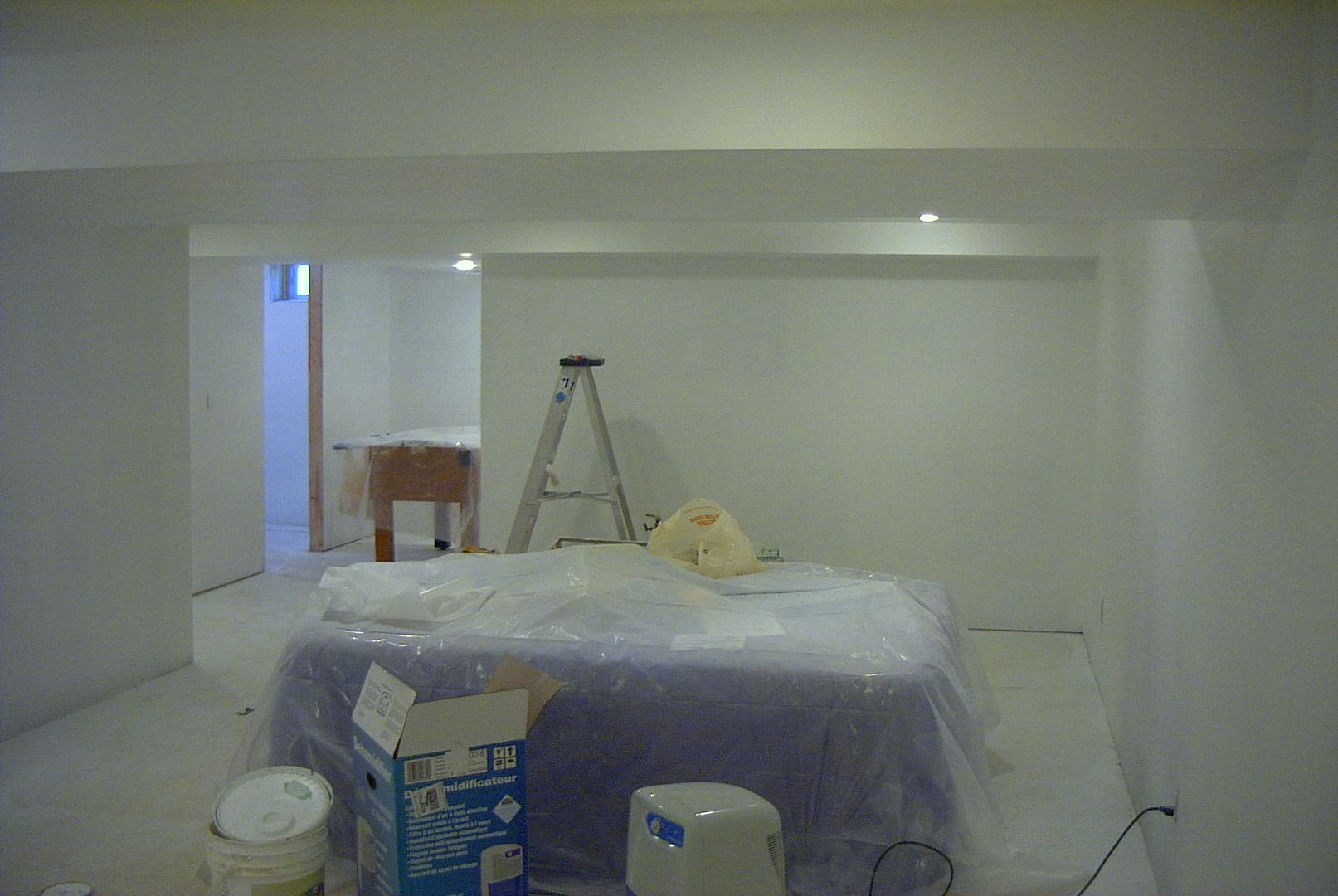 And here we are so far today. Freshly primed. We chose to rent a sprayer and prime the entire basement. It took just over 10 gallons and about three hours! I would highly recommend renting a sprayer for such a job...although my hubby who knows he is not a painter, got about 2 gallons on the floor with over spray! Oh the work we have to do this weekend...